Many of the exhibitors release or demonstrate new products at the Expo. Following is just a sample of what you will see at this year's event. Other products will be announced at the show.
ORITECH Stand B21


NEW RE-STYLED COMPACT JBC CD SOLDERING STATION
JBC has upgraded its popular CD Compact Soldering Stations. The new, more compact and intuitive restyled Compact Stations (version F) provides a range of new featured to improve on an already versatile station.
Main features
• Keypad: from 3 to 7 keys, which give access to the menu and help function, allowing quick and easy configuration of the station
• Connectivity with the JBC Fume Extractors via a RJ12 connector
• TFT screen
• New Cable collector, designed for a perfect adaptation to movement while soldering
• New accessible and replaceable earth fuse
• Cartridge Holder, to store up to 4 cartridges

ASH LAUNCHES NEW OMNI 3 DIGITAL MICROSCOPE
Omni 3 from Ash Vision is an advanced digital microscope system incorporating the new AshCam+ 30x zoom lens camera with a host of new features for smart inspection and measurement. Not all inspection needs are the same so Ash developed a platform to suit a multitude of needs. Omni 3 offers powerful features as standard and a range of additional Apps that deliver advanced functionality.
Omni 3 offers superb image quality in Full HD video with fast live image display at 60fps. Experience unrivalled imaging never seen before on an Ash system. With AshTruColour, advanced camera settings, improved depth of focus and no video latency. Omni 3 is 3x times faster than previous Ash systems.
Intuitive software interface simplifies operation and control of the system without the need for a PC. Image enhancement functions and contrast ensure optimal image results. Easy to use illumination optimisation features make controlling the integrated segmented LED ring light effortless.
Applications
• Visual inspection of parts
• Final QC release inspection
• Standardisation and control on inspection processes
• Documentation of inspection processes

SEE EXACTLY WHERE YOUR ELECTRONICS HEAT UP WITH THE FLIR ETS320
Troubleshoot PCB & Electronic Product Design with Thermal Imaging
Whether the goal is product testing or scientific research, heat can be an important indicator of how a system is functioning. The FLIR ETS320 is a non-contact thermal measurement system that pairs a high-sensitivity infrared camera with an integrated stand, for hands-free measurement of printed circuit boards and other small electronics.
Reduce Test Times
This sensitive camera detects minute temperature shifts (< 0.06°C) and quantifies heat generation up to 250°C.
Improve Product Design
Offers 76,800 points of non-contact measurement and accuracy of ±3°C, so researchers can locate hot spots without concerns about heat sinks.
Designed for Benchtop Work
With a microscope-style stand that's quick to set up and simplified features, ETS320 allow researchers to focus on their work.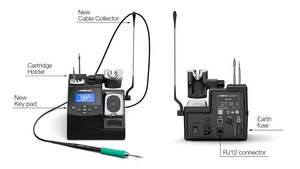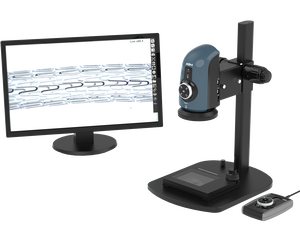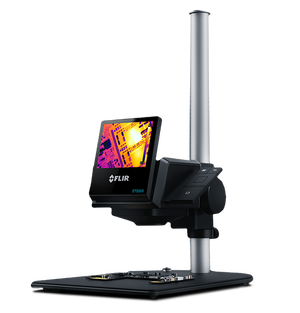 GPC ELECTRONICS Stand D35

GPC ELECTRONICS, YOUR EXPERIENCED PARTNER DELIVERING SCALEABLE AND COMPETITIVE ELECTRONICS MANUFACTURING SERVICES

GPC Electronics is a Contract Electronics Manufacturer based in Sydney, with factories in Sydney (Penrith), Christchurch (New Zealand) and Shenzhen (China). We have been operating since the mid 1980s. In an uncertain and competitive global market we will inspire confidence with every aspect of our service.
Our experience, together with robust processes, and tailored business solutions, enables us to better adapt in a less certain world. Supported by our global procurement team we can meet fluctuating demands with reduced cost and risk.
GPC Electronics' engineering team provide support for NPI, Assembly, Test development, Final Product build and qualification.
In a competitive market, customers are expecting fast turn-around, high yields and attractive pricing. GPC Electronics can provide scalable solutions for high value niche products right through to those with stable high volumes. We partner with many top-level OEMs in industries that include, communications, aerospace and defence, automotive and transport, industrial, agriculture, and medical devices.
GPC is accredited to ISO 9001, ISO 14001, ISO 13485, IATF 16949, ISO 9100D and the Australian Defence Department's DISP.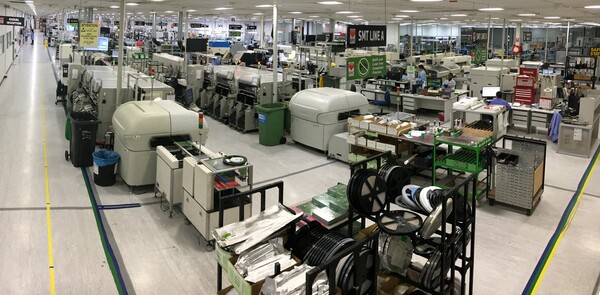 WAGO Pty Ltd Stand B24

WAGO is a family-run company and continued to grow since being founded in 1951, with a current worldwide workforce of more than 8,500 people. They are trusted anywhere electrical conductors must be connected to each other or where complex automation systems must be controlled. WAGO has continuously proven to contribute to safety and the reliable operation of devices and complete installations.
Our Australian & New Zealand sector is built up of people who are passionate, committed and enthusiastic about creating the best innovations for our customers. We proudly stand by our accomplished innovative products and solutions that have been introduced to the market, and have further committed ourselves to ensuring the most time and cost effective solutions for your business. This is why we are continuously expanding and improving our thought processes in order to ensure your ambition for success is met.

THE NEW WAGO GELBOX FOR SPLICING CONNECTORS
Condensation, heavy precipitation, powerful water jets: When moisture meets electricity, a short circuit can happen quickly. Encapsulation is a proven solution. But now reliable moisture protection for splicing connectors can be achieved even more quickly and easily with the WAGO Gelbox. It is ready for immediate use in a wide range of low- and extra-low voltage applications.
The WAGO Gelbox is a compact box pre-filled with silicone-free gel. The Gelbox is available in six sizes and provides IPX8 levels of moisture protection for WAGO's 221 Series COMPACT Splicing Connectors. This means that the connectors are completely sealed against water and can be permanently immersed in water. Conventional potting compounds like polyurethane and silicone also meet IPX8 requirements. WAGO Gelbox's distinctive feature is that it protects the electrical installation exactly where it matters – at the connection points – without permanently encapsulating the junction boxes. Unlike silicone-based gel, the WAGO Gelbox's silicone-free gel supports a virtually unlimited number of applications.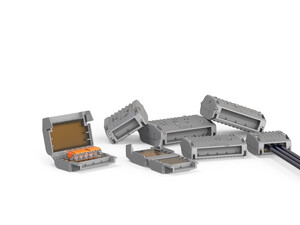 Splicing Connectors for All Types of Conductors:
These electrical installation allow solid, stranded and fine-stranded conductors to be connected faster and more reliably, while conserving precious junction box space. This is made possible not only by their compact design, but also by their transparent housing, easier handling and two test ports.
Due to their extremely small dimensions, WAGO's COMPACT Splicing Connectors are ideal for space-restricted applications. Installation is made much easier, while providing additional freedom for future expansions.
Another highlight: the transparent housing. Now, you can clearly see if the conductors are connected properly and stripped to the correct length. Furthermore, two easy-to-access test ports, one in the conductor entry direction and one opposite of this, provide extremely convenient testing conditions – even after installation.
WAGO's new 221 Series COMPACT Splicing Connectors comes in 6 mm2
Easier, faster, safer: These three attributes characterize WAGO's 221 Series Splicing Connectors. WAGO's 221 Series now offers a model for conductors up to 6 mm2. Previously, stranded or fine-stranded conductors up to 4 mm2 were connected with WAGO's 221 Series Splicing Connectors.
As with other 221 Series models, installation with WAGO's new 6 mm2 splicing connectors is simple. Stripped conductors are pushed into the connector until they hit the backstop after opening the clamp with an orange lever. The conductor is securely connected after closing the lever, while the transparent housing enables visual inspection of the connection. OEMs benefit from the new connector that offers options for easy, fast and safe wiring of high-power lighting and signal systems, or HVAC systems within commercial buildings.
Advantages include, faster installation of devices with higher levels of power consumption, safer installation of long cable runs with larger conductor cross-sections, easy conductor termination up to 6mm² and safe wiring thanks to WAGO's spring pressure connection technology.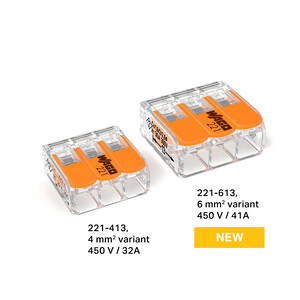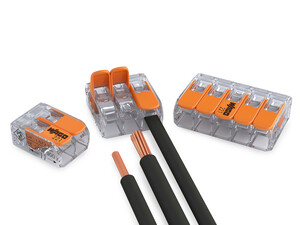 221 SERIES INLINE SPLICING CONNECTOR
A truly standard-setting solution for all conductor types from 0.2 to 4 mm², the new 221 Series Inline Splicing Connector with lever combines all the trusted advantages of the 221 Series Splicing Connectors into a slim design. Offering unsurpassed simplicity, speed and reliability, the 221 Series provides universal conductor connections – with lever technology that eliminates tools – while offering a visibly secure conductor contact.
Users get the flexibility of having five fixed-position poles in one adapter – whether it's with or without strain relief, on DIN-rails with a snap-in mounting foot, for screw mounting, adhesive mounting, tie-on mounting or suspended mounting.
As a universal connection technology, the 221 Series Inline Splicing Connector's compact dimensions not only improve your current installations, the small footprint also opens up a wide variety of new applications. These include space-restricted applications like laboratory and test setups, production test bays, lighting connection in suspended ceilings, or extending loudspeaker cables and distribution boxes in industrial applications.
Junction Box for 221 Series COMPACT Splicing Connectors
Things can get confusing wherever multiple cables meet. WAGO's junction box helps you connect up to 60 conductors with WAGO's 221 Series COMPACT Splicing Connector for all conductor types with cross-sections up to 4 mm2.
The junction box is designed for surface screw mounting on the wall/ceiling. The cover can be snapped on and off without screws. The connectors are easily mounted by snapping them in, and the marking strips are mounted by simply pushing them in.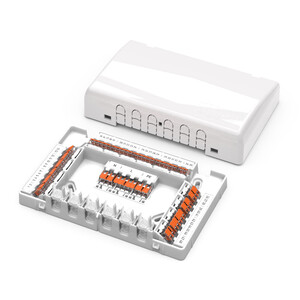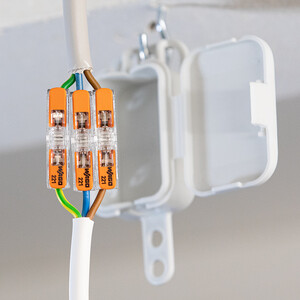 WAGO 221 Sortimo L-BOXX® Mini - Splicing Connector Sets up to 6 mm2
Now available in three versions, the WAGO 221 Sortimo L-BOXX Mini, 887-952, 887-957 and 887-959 include 2-, 3- and 5-wire connectors for all conductor types and always remain properly sorted, ready and waiting at the right place when you need them.
In the Sortimo L-BOXX® the splicing connectors always remain properly sorted, ready and waiting at the right place when you need them. This provides for space-saving and practical storage of both the splicing connectors and the case itself.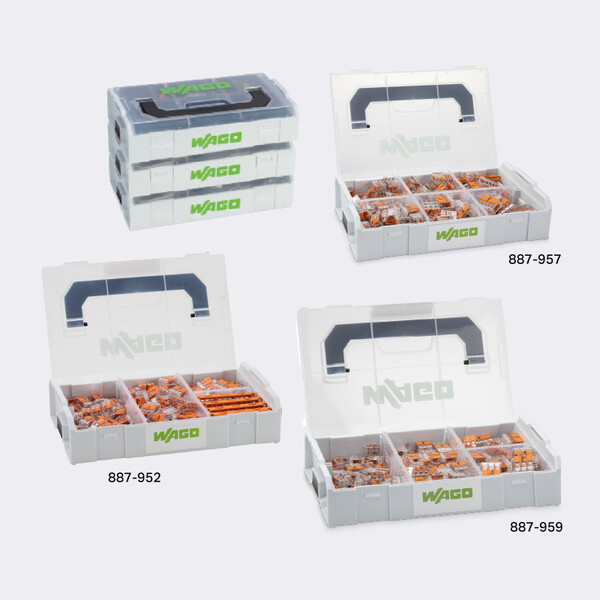 INCREDIBLY HANDY: PCB CONNECTORS WITH LEVERS
The world's first lever-actuated connectors for power electronics It permits direct, in-hand wiring of conductors up to 25 mm2 (4 AWG). This new MCS MAXI 16 family of connectors expands WAGO's MULTI CONNECTION SYSTEM (MCS).
Two versions of the new pluggable connectors are available (wire-to-wire and wire-to-board), and each version offers variants ranging from 2 to 6 poles. All models are designed for a nominal conductor size of 16 mm2 with ratings up 1,000 V and 75 A (IEC). The connectors are equipped with Push-in CAGE CLAMP® technology for all conductor types, allowing solid and fine-stranded conductors with ferrules to be simply pushed into the unit.
The lever is incredibly user-friendly with clearly identified open/closed positions. When closing the clamping point, the force of the open spring ensures that the lever closes at low force. This ensures a secure connection of the clamping point.

PRO 2 - THE NEW HEART OF YOUR CONTROL CABINET
Control cabinets are undergoing a transformation, because the requirements on them are constantly increasing. Greater networking, rising energy costs and increasing customization require compactness, economy, speed and flexibility in control cabinets.
Our answer to these stricter requirements is the WAGO Power Supply Pro 2 – the best power supply we've ever built – the heart of the control cabinet, which takes the challenges of today and tomorrow and turns them into concrete possibilities. We call this the power of possible!
WAGO's new line of Pro 2 Power Supplies sets new industry communication and parameterization benchmarks and provides an energy conversion efficiency of up to 96%. These new power supplies permit fieldbus connection via snap-on type communication modules (IO-Link) and feature WAGO's exclusive high-performance TopBoost and PowerBoost capabilities for maximum system uptime and lower hardware costs. Another key advantage is that these units can be tailored to any application requirement, allowing parameters such as output voltage and overload behavior to be easily configured via software.

RAIL-MOUNT TERMINAL BLOCKS WITH LEVERS
Connect conductors without tools via rail-mount terminal blocks with levers. With the lever, opening and closing a clamping point by hand couldn't be any easier. Especially when making connections in the field, the user benefits from the ease of handling offered by this intuitive design. The levers remain open for the simultaneous connection of difficult-to-bend conductors with large cross sections. Thanks to Push-in CAGE CLAMP®, solid and stranded conductors, as well as fine-stranded conductors with gas-tight crimped ferrules, can also be connected by push-in termination.
Advantages include Manual lever actuation – inherently intuitive, tool-free operation. Raised lever which stays open, freeing hands for quick and easy wiring. The lever's position clearly signals whether the clamping point is open or closed. All conductor types can be connected and disconnected without tools.
Push-in CAGE CLAMP® allows connection of both solid and fine-stranded conductors with ferrules by simply pushing them into the unit.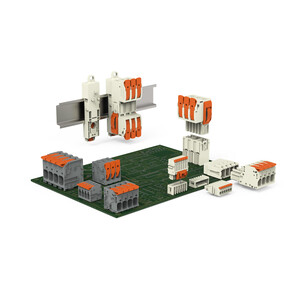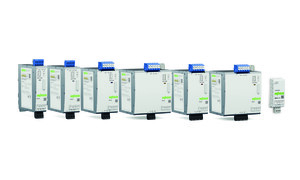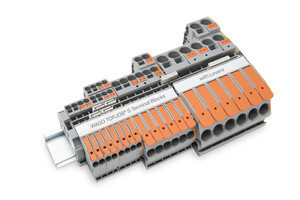 HAWKER RICHARDSON Stand D24

HAWKER RICHARDSON TO SHOWCASE THE NEW YAMAHA YRM20 MOUNTER AT ELECTRONEX
The very latest in SMT innovation from Yamaha - the YRM20 mounter, delivers world class performance with a new platform that delivers total flexibility. With options of rotary or conventional spindle heads and the ability to accommodate everything from 0201s and components up to 30mm in height makes the new YRM20 the most flexible system on the market.
• Flexible – utilising a new multi-purpose rotary (RM) head with 18 nozzles, the YRM20 has the capability of placing components to a height of 12mm. The YRM20 can also be optioned with a conventional 10 spindle head or 5 spindle head which can place components to 30mm and apply force to connectors and other through hole devices.
• Intuitive – the YRM20 comes with a new intuitive software for improved setup, machine operation and changeovers.
• Speed – what is more, this new mounter is a first with mounting performance of an incredible 115,000CPH(under optimal conditions).
Accuracy - as well as incredible speed, the YRM20 provides impressive mounting accuracy of ±25μm (Cpk≧ 1.0) and supports 0201 (0.25×0.125mm) sized microchip component mounting, through use of the MACS system, making it ideal for high accuracy and high-speed production.
VISIT THE HAWKER RICHARDSON STAND (D24) AT ELECTRONEX FOR YOUR CHANCE TO WIN A YAMAHA MCR-N470 HIFI SYSTEM
Following the success of the competition from the last show, Hawker Richardson are giving visitors of Electronex 2021 the chance to win the Yamaha MCR-N470 HiFi again with all the latest functionality, including CD, USB and radio to the latest versions of Wi-Fi, MusicCast, AirPlay® and Bluetooth®.
Yamaha describe this system with Vintage aesthetics with a new school vibe. To win this smart and luxury HiFi, just visit the stand D24 to enter the competition.
Part of GCEM Group (Australian owned family business), Hawker Richardson is the leading supplier of industrial production and production machinery and tools in Australia and New Zealand. Established in 1923, Hawker Richardson originated as a machine assembler and has stayed at the forefront of manufacturing technology in Australia for over 90 years.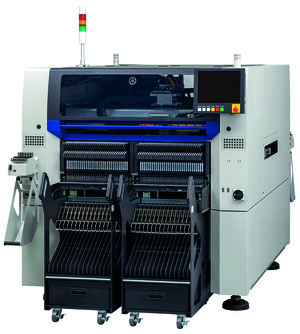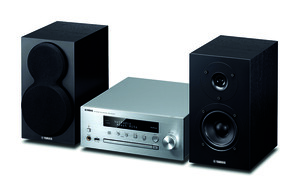 NPA Pty Ltd Stand C2

NPA Pty Ltd is a privately owned South Australian company, with the same family ownership since its foundation in 1986. For over 30 Years NPA has been Australasia's leading supplier of cable and wiring accessories, nylon fasteners and electronic hardware.
NPA has partnered with select manufacturers, chosen for the superb quality and uniqueness of their product lines. NPA have supported and grown their relationship with these suppliers over their 30-year history to the point where the brands have become synonymous with NPA.
NPA has recently acquired the exclusive distributorship for Delaunay D. range of High-Performance Cable Glands and accessories products targeting Marine, Mining, Rail and Defence Industry which it will be show casing.
NPA will be exhibiting its wide range of products which includes Cable Glands and accessories; Solar Clips and accessories; Liquid Tight flexible conduit, Tubing and Fittings; Liquid Tight Cord Grips; Strain Relief Bushings; Venting Solutions; Bushings, Grommets, HEYCaps & Plugs; Nylon Screws, Nuts, Washers, Spacers, Threaded Rods; PClips, Cable Mounts, Cable Ties, Cable Holders, Cable Clamps; Battery Clips, Contacts & Holders; Fuse Clips & Holders; Terminals & Test Points; Spacers & Standoffs; Pins, Plugs, Jacks & Sockets, Heat Shrink and Sleeving Products.





NEW SMT LOW PRO¬LE PCB EDGE CONNECTORS
This new series of SMT PC Board Connectors is designed to pass signals or power across PC Boards. Quick and easy to set-up, these space-saving SMT connectors have a horizontal orientation making them uniquely suitable as parallel board-to-board or board-to-component alternative options for power or signal transferring. These new connectors are designed to provide low pro¬le circuit linkage and minimal footprint for high-density, high current PCB packages on power and aluminium backplanes. All PCB soldering applications, including reflow, may be utilized. The female sockets (K6102) are equipped with side guides for additional reinforcement to minimize PCB movement when installed.





NEW BLIND MOUNT CABLE GLAND
These unique cable glands are designed for quick and easy installation, especially where a blind-¬t is required or where there is insufficient space to use a lock nut inside the application.
These cable glands are often used in refrigeration systems and wherever it is inconvenient or impossible to use a traditional gland with a lock nut, for example close to a corner or in very cramped assemblies. They come in a range of metric thread sizes from M16 to M32 and three colours - light grey, dark grey and black.
Suitable for panel thickness 1 - 4 mm.

SOLAR CLIPS
Engineered for high-quality wire management solutions, simplify wire management, and create a cleaner aesthetic to Solar PV Arrays. The clips are made of corrosion resistant stainless steel, which makes them a durable, long lasting and reliable solution for all environments, and are designed with coined edges to prevent damage to cable insulation. cable clips can be used in wide variety of mounting configurations (including 90 degree) for module.

TECHNICAL FEATURE
• Made with corrosion resistant 304 Stainless Steel or spring grade Stainless Steel.
• Dual or four wire compartments.
• A wide variety of mounting Configurations.
• Accommodation for a broad range of cable combinations and sizes (e.g. PV, AC module and Micro inverter cables).
• Special tab for easy installations & amp; removal.
• Coined edges to prevent damage to cable insulation.
• Can be used on modules with a flange
NPA's team is looking forward to meeting with you to discuss your product requirements.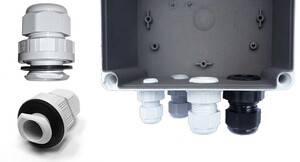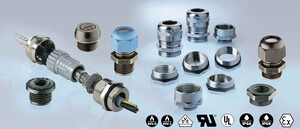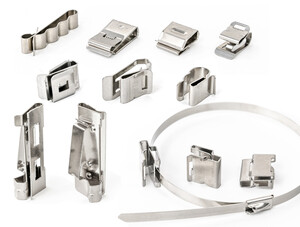 ADM INSTRUMENT ENGINEERING Stand B20

ADM Systems is a family run business that was established by our Managing Director, Glenn Bates in 1986.
Since then, we have grown to become Australia's largest stockist of MEAN WELL power supplies, Eurotherm process control and data management solutions, industrial transducers and sensors, encoders, and test & measurement instrumentation, including EMF radiation meters and monitoring equipment.
ADM stocks Adel System's CBI series of DIN rail mounted uninterruptable DC power supplies.
Available in 12, 24 & 48V versions, Adel System's All-in-One DC-UPS feature:
• Remote monitoring / control via Modbus or optional ethernet (for some models)
• Integrated battery (impedance) test
• Full multi-stage charging
• Lower cost of ownership / increased battery life
• Voltage free contact reporting
• Multi-chemistry support for batteries
Larger UPS modules have Modbus (as standard) and are networkable via the Adel DYP351 Display/Gateway.

• Complete control and visibility of your system via the ADEL View System PC based software.
• Monitor every important parameter of each uninterruptible power supply unit in real time.
• Simple and intuitive user interface allows monitoring of battery parameters, load output, temperature sensors, mains presence and all alarm and diagnostic flags.
As well as real time monitoring you can also configure each UPS device, set and monitor alarms, and check back on the history of the operation of the system.
The full impedance test provides peace of mind that the batteries can supply the load when needed.
• No need to have technicians travel to site just to test batteries.
Adel System's DC UPS modules are powerful & efficient, capable of simultaneously supplying their rated current to both the load and the battery (up to 3x the current to the load for short durations).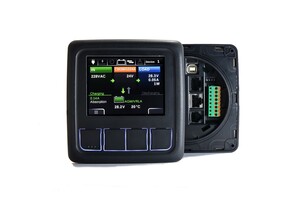 AC PHASE CUT DIMMABLE LED DRIVERS IN STOCK!
For years ADM sampled and tested phase cut dimmable LED drivers from many different manufacturers, but none ever performed to an acceptable level.
In 2018 ADM commenced the vigorous testing of the Power Source range of LED drivers using various leading edge and trailing edge dimmers under varying types of loads.
The Power Source range performed very well, meeting ADM's high expectations for performance and quality.
These LED drivers are readily available from ADM today, with the range being expanded to include DALI dimmable and 0-10V dimmable models.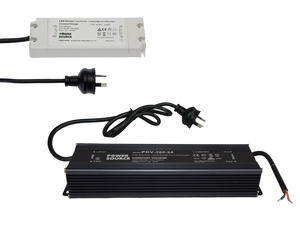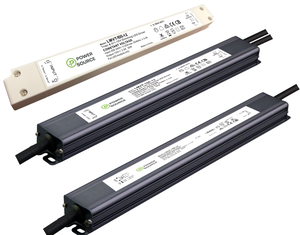 A Square Temperature Controller that Fits in a Round Hole!
The Elco ELK22S series temperature controllers are a game changer. They can be mounted in a 22mm hole cut-out, or 45*45mm cut-out. This makes them perfect for original equipment manufacturers and retrofit projects.
The display module is mounted through the panel from front, and the controller plugs into the display from the back.
DIN mount modules are also available, allowing one panel to interface with multiple DIN rail controllers. This is a great solution for larger scale applications where multiple heat processes need to be controlled.
The universal input can accept the following: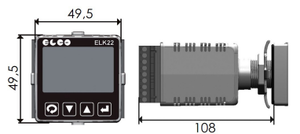 • Thermocouples J, K
• Thermoresistors Pt100 2/3 wires
• Thermoresistors PTC KTY81-121
• NTC 103AT-2
Output options allow you to switch solid state relays and, or mechanical relays.
Control options include ON/OFF, Neutral Zone, and PID single action.
There are two power supply options available: 24VDC or 100~240 VAC.
HARTING RANGE NOW IN STOCK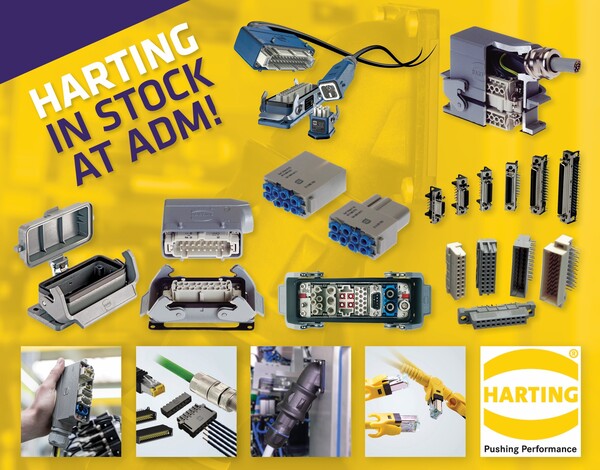 EMBEDDED LOGIC SOLUTIONS Stand D21

NEODEN K1830
The all-new Neoden K1830 has been refined from the Neoden7 design for maximum efficiency, ease of use, and increased compatibility.
Boasting a placement speed of up to 16000 components per hour (CPH), made achievable using an eight-nozzle gantry head. Using an integrated flying vision system and Panasonic closed-loop servo-driven position feedback, Neoden K1830 can achieve a placement accuracy of 0.01mm without sacrificing the CPH rate.
The Neoden K1830 transports PCBs in a self-adjusting automatic rail system (standard) and can hold up to sixty-six 8mm pneumatic or electric tape feeders (Yamaha). Usually machines of this production caliber face component size restrictions, not the Neoden K1830, it is able to handle 0201, 0402, LED, BGA, 0.4mm pitch QFP, up to SMT Connectors; compatibility for cut tape, loose, tube, or tray feeders also.
The Neoden K1830 is the ideal machine for low-volume assembly due to its feature set and economical price.
Embedded Logic Solutions will be demonstrating the Neoden K1830 at the Electronex show.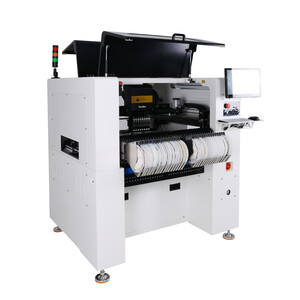 CONTROL DEVICES Stand B26
FNR SERIES ROCKER SWITCH
The FNR series is specially designed for easy forward and reverse control with an excellent tactile feel. This rocker switch is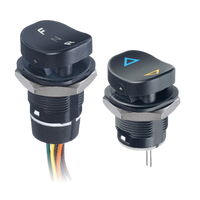 extremely well sealed making it suitable for demanding environments, especially on an all-in-one joystick control. Comes with a 20 mm diameter, embedded LED resistors and can be easily mounted and installed on a control lever. FNR rocker switch operates with ease, comfortability and precision, even with high repetition use. Backlighting options also available in 5 colours. Contact Control Devices for further information.

RT HANDLE FOR XD SERIES JOYSTICK
The new addition to APEM's product range, the multi-function RT handle is exclusively designed for the APEM XD series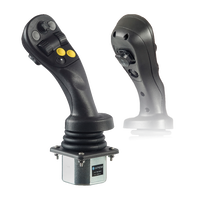 Joystick and for vehicle applications requiring right hand operation. The RT handle features both front and rear facing configuration plates that allows the user to easily reach for all forward-facing functions with just their thumb. This ergonomic control grip offers a wide selection of push buttons and hall-effect thumbwheel combinations to be incorporated into the one handle. The handle provides up to four axis of proportional control and 10 momentary switching functions. Provides IP67 above panel sealing. Ideal for Off-highway vehicles and Industrial machinery.
NEW WP SERIES PUSH BUTTON AND COVER
Control Devices is the official APEM distributor for Australia and New Zealand. APEM has just released their new WP series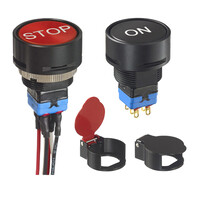 push button with new high performance momentary switch for interfaces that must be easily identifiable. The push button increases visibility of your critical functions with its extra-large activation surface. The push button comes with a large format personalised laser marking and an anodized 25 mm diameter bearing area which can be tinted in blue, black, green or red. The WP series is IP67 and IP69K rated, which is suitable for harsh applications, such as outdoor or military. The series meets the waterproof and reliability needs within the market. Also available is the WPG series security cover for specific metal security guard requirements to prevent any unwanted activation especially when the button is positioned in outdoor applications. There are three types of switch guards and eight colours available to choose. Get further information or a quote from our team today.
MICROCHIP TECHNOLOGY Stand C8
The DesignShield Tool
Mission-critical and other high-assurance systems deployed worldwide are under rapidly evolving threats from cybercriminals who attempt to extract Critical Program Information (CPI) via the FPGAs that power them. Microchip announced it has extended its FPGA family's security with the DesignShield development tool that further helps prevent this information from being extracted for malicious purposes.
As a leader in the security space, Microchip offers a portfolio featuring the latest countermeasures for reducing the risk of cloning, intellectual property theft, reverse engineering, or the insertion of malicious Trojan Horses. Protecting CPI in deployed systems with our DesignShield tool is essential for national security and economic vibrancy. The tool advances the state of bitstream protection mechanisms and provides another defensive layer in ensuring that deployed systems behave as intended and are safe from counterfeiters and their threat to a developer's design investments and brand reputation.
The DesignShield tool was created to protect developers of aerospace, defense and other high-assurance systems from cybercriminals trying to acquire an FPGA's bitstream from the fielded system. It deters reverse-engineering of the bitstream, which can often include CPI, by obscuring its logical equivalent using a combination of logic and routing-based encryption techniques. This improves design security and integrity while reducing system corruption risks, and reduces the possibility that custom code, intellectual property, or information critical to national security is used by non-authorized agents.
The DesignShield tool is available under license as part of Microchip's Early Access Program, which enables customers to begin designing with FPGA devices and design tools ahead of broader commercial availability. The DesignShield tool is part of Microchip's Libero Development Tool Suite.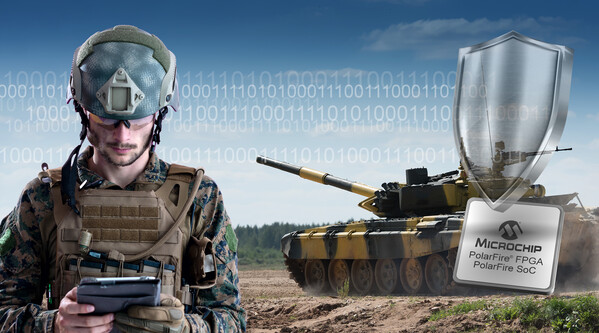 Trust Platform Design Suite
In 2019, Microchip Technology released its Trust Platform for its CryptoAuthentication™ family, bringing the industry's first pre-provisioned solutions for hardware-based secure elements to companies of all sizes that want an easy way to implement secure authentication. Today, Microchip is further enhancing this service with the latest enhancements to its Trust Platform Design Suite (TPDS) — its dedicated software platform for device configuration and onboarding to Microchip secure provisioning services for embedded security.
TPDS version 2 (v2) software now enables Microchip partners to add use cases to its rich security solutions onboarding ecosystem, further expanding developers' already broad options for implementing best-in-class security. It also now includes support for additional security solutions such as the TA100, the first cryptographic companion device for the automotive market.
• Trust&GO -- Devices are pre-defined and pre-provisioned, off-the-shelf, for secure cloud authentication in both TLS-based and LoRaWAN-based networks, with a Minimum Orderable Quantity (MOQ) of just ten units.
• TrustFLEX -- Customers can use this program's pre-configured devices either with default generic certificates or their own credentials (Custom PKI), while benefitting from an even broader range of predefined uses cases than are available with the Trust&GO program.
• To address the most demanding use cases, Microchip's TrustCUSTOM family gives customers the freedom to fully define the secure authentication configuration and fully customize secure key storage.
With its fully integrated onboarding flow, the TPDS v2 software allows a customer to select a security solution, validate its use case, prototype it, and then start the process of secure provisioning, all in a few simple steps.
Microchip's open-source Trust Platform Design Suite is available for download on Microchip's website at no cost for Trust&GO and TrustFLEX flows.
New Microchip WFI32E01PC Module
As the Internet of Things (IoT) expands beyond home automation and drives deeper into home control – including Heating, Ventilation and Air Conditioning (HVAC), garage doors and fans – and grows in building and industrial automation, the need for highly integrated, reliable and secured Industrial Internet of Things (IIoT) connectivity is greater than ever. Microchip announced the first-ever Wi-Fi microcontroller (MCU) module with Microchip's Trust&GO-enabled unique, verifiable identity.
For developers designing secure IIoT systems, Microchip's highly integrated WFI32E01PC is a Trust&GO secured platform-enabled Wi-Fi MCU module that is pre-provisioned for cloud platforms. The WFI32E01PC is compliant to Wi-Fi Alliance (WFA) specification and fully certified with the following world regulatory agencies: Federal Communications Commission (FCC), Industry Canada (IC) and European Radio Equipment Directive (RED). Microchip's Trust&GO platform inside the WFI32E01PC streamlines the process of network authentication using secure element technology, which is preconfigured and pre-provisioned for cloud authentication.
Unlike existing devices, Microchip's new technology includes a premium PIC32 MCU core, rich peripherals and a proven hardware security platform – enabling it not only to provide Wi-Fi but also to serve as a powerful MCU core for the entire IIoT system.
With increasing attacks, traditional software data encryption is no longer sufficient to protect transmitted data. Devices need a hardcoded, verifiable, trustable identity to securely connect to the cloud. This is the first secure, pre-provisioned MCU with Wi-Fi that is shipped factory direct or through distribution.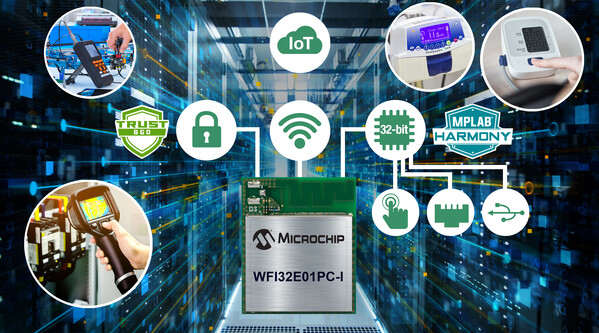 Microchip PIC18-Q41 and AVR DB MCU Families
Sensor-based Internet of Things (IoT) applications rely on a combination of analog functionality and digital control capability to meet a challenging list of requirements including low cost, small size, performance and low power. Addressing this challenge through a focus on increased microcontroller (MCU) integration, Microchip Technology Inc. announced the PIC18-Q41 and AVR DB MCU families that are the first to combine advanced analog peripherals and multi-voltage operation with inter-peripheral connections for increased system integration and reduced signal acquisition times, and offer the convenience and efficiency of operating in a single design environment.
Microchip is bringing easy-to-use analog capability to cost-effective PIC® and AVR® MCUs so designers can meet the requirements of large-scale IoT systems. With a unified, seamless development tool experience, designers can use these MCUs as a single-chip controller, or as an intelligent analog signal conditioning component in a larger system.
To address the need for signal conditioning in space-constrained sensing and measuring applications such as IoT end nodes and industrial, medical devices, wearables, automotive and lighting systems, the PIC18-Q41 MCU has a configurable Operational Amplifier (Op Amp) and Analog-to-Digital Converter (ADC) with computation and Digital-to-Analog Converters (DACs). It is particularly well-suited for IoT and large-scale artificial intelligence (AI) at-the-edge, including predictive maintenance edge nodes in a smart factory. Offered in compact 14- and 20-pin packages, the PIC18-Q41 MCU also makes a good companion to Microchip's 32-bit MCUs and other controllers that require analog integration.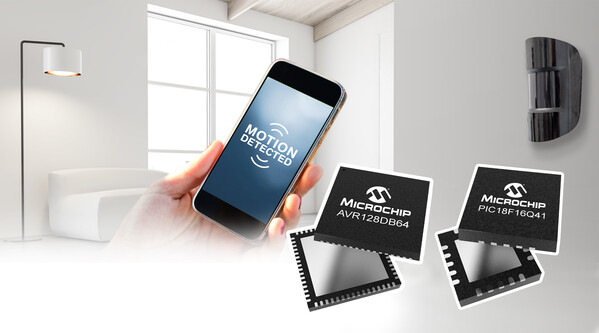 Ensemble Graphics Toolkit
Graphical user interfaces (GUIs) and interactive touchscreen displays provide intuitive user experiences in applications from robotic and machine controls to medical user interfaces, automotive instrumentation and home and building automation systems. A well-designed GUI enables users to process information more quickly and interact more effectively with a product. Microchip announced a new GUI development toolkit for its portfolio of 32-bit Linux-based microprocessors (MPUs), helping designers of industrial, medical, consumer and automotive graphical displays to reduce development cost and time-to-market.
Microchip's new Ensemble Graphics Toolkit is a free and open-source C++ GUI suite for the company's SAMA5 and SAM9 series of Arm® Cortex®-A5 and ARM926EJ-S™ processor-based MPUs including the system-in-package and system-on-module products. The Ensemble Graphics Toolkit is optimized for Microchip's 32-bit MPUs running the Linux operating system. By taking advantage of underlying hardware acceleration, including graphics controllers and video decoders when available, the toolkit provides a high-performance user experience on low and mid-range graphical displays up to XGA (1024 × 768 pixels) resolution.
Microchip's Ensemble Graphics Toolkit is a complete software and tools framework suite. Training and support are available worldwide at www.microchip.com/EGT.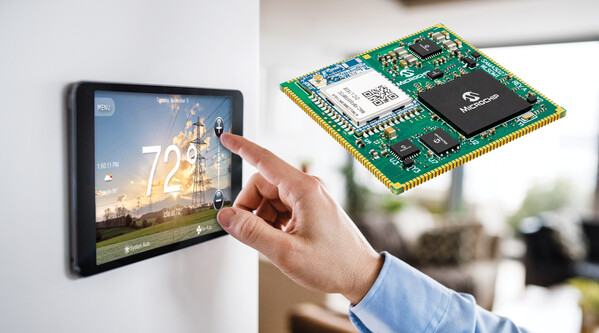 congatec Stand C30

CONGATEC INTRODUCES SIX NEW COMPUTER-ON-MODULES WITH 11TH GEN INTEL CORE PROCESSORS FOR THE EXTENDED TEMPERATURE RANGE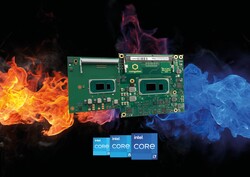 The conga-HPC/cTLU COM-HPC Client Size A module, as well as the conga-TC570 COM Express Compact module will be available with new scalable 11th Gen Intel Core processors for extreme temperatures ranging from -40 to +85°C. Both modules are the first to support PCIe x4 in Gen 4 performance to connect peripherals with massive bandwidth. In addition, designers can leverage 8x PCIe Gen 3.0 x1 lanes. Where the COM-HPC module offers latest 2x USB 4.0, 2x USB 3.2 Gen 2, and 8x USB 2.0, the COM Express module offers 4x USB 3.2 Gen 2 and 8x USB 2.0 in compliance to the PICMG specification. For networking, the COM-HPC module offers 2x 2.5 GbE, whereas the COM Express module executes 1x GbE, with both supporting TSN. Sound is provided via I2S and SoundWire in the COM-HPC version, and HDA on the COM Express modules. Comprehensive board support packages are provided for all leading RTOS, including hypervisor support from Real-Time Systems as well as Linux, Windows and Android. They provide all features and services required for reliable operation in the most challenging environments.
CONGATEC DOUBLES PERFORMANCE WITH AMD RYZEN™ EMBEDDED V2000 PROCESSOR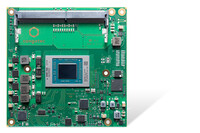 The conga-TCV2, a brand new COM Express Compact Computer-on-Module based on AMD Ryzen™ Embedded V2000 processors. With double the performance compared to the earlier launched AMD Ryzen™ Embedded V1000, the module is setting a new performance per watt benchmark, which finds its sweetest spot in 15 Watt TDP designs. This extraordinary low power platform performance has been validated using real-world cross-platform test suite Cinebench R15 nt. Compared to earlier modules with AMD Ryzen Embedded V1608B processors, conga-TCV2 modules deliver a performance plus of 97% (V2516) to 140% (V2718) with up to 8 cores. Due to the new 7nm Zen 2 cores, single core performance also increased between 25% and 35%, making the new modules a perfect candidate for performance improvements in 24/7 connected and fanless embedded systems operating at the various industrial edges. Typical applications include multi-functional industrial edge gateways, digital signage systems, gaming terminals and infotainment platforms. With up to 40% more GPU capabilities for up to 4x 4k60 graphics at 15 Watt and comprehensive GPGPU support, multi-headed medical imaging systems in the operating theatre as well machine vision and machine learning systems are further target markets.
CONGATEC INTRODUCES NEW PLATFORMS FOR TACTILE INTERNET APPLICATIONS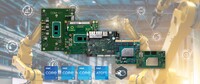 The new application-ready platforms for tactile internet applications over public broadband as well as private IP networks. They support Time Sensitive Networking (TSN) in combination with the new Intel® Time Coordinated Computing (Intel® TCC) technology, which complements the TSN Ethernet standard based on latest Intel IP technology. The goal is to reduce latency and minimize jitter in real-time synchronized processes. The demo platforms enable tactile internet applications on the basis of open internet standards, finally paving the way for IP based real-time communication and real-time control infrastructures. Above all, such platforms are perfect for the digitization of process industries, critical infrastructures and Industry 4.0 environments but also have the potential to heavily disrupt proprietary industrial Ethernet and fieldbus setups. The major benefit is that open standard IP protocols can be utilized across all layers of the automation pyramid to communicate in real-time – from the highest level of operator dashboards down to a single I/O connected with the IIoT, and from a single sensor to the actor.
congatec has added TCC protocol support to this for the brand new 11th Gen Intel® Core™ processors (Tiger Lake) and Intel Atom® x6000E Series processors (Elkhart Lake).

CONGATEC STARTER SET FOR COM-HPC™ WITH 11TH GEN INTEL® CORE™ PROCESSORS
This brand new COM-HPC™ starter set is optimized for modular system designs utilizing the latest high-speed interface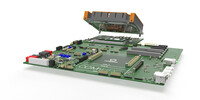 technologies such as PCIe Gen4, USB 4.0 and up to ultra fast 2x25 GbE connectivity as well as integrated MIPI-CSI vision capabilities. The starter set is based on congatec's PICMG COM-HPC Computer-on-Module conga-HPC/cTLU, which leverages 11th Gen Intel® Core™ processor technology (code name Tiger Lake). This new high-end embedded module generation targets system engineers working on the broadband connected edge devices that are emerging in industrial IoT. Target markets include medical, automation, transportation and autonomous mobility, as well as vision based inspection and video surveillance systems.
The starter set's various Ethernet configuration options range from 8x 1GbE switching options and 2x 2.5 GbE including TSN support up to dual 10 GbE connectivity. congatec's comprehensive AI support for MIPI-CSI connected cameras from Basler adds further application readiness to IIoT and Industry 4.0 connected embedded systems. AI and inferencing acceleration can be achieved with Intel® DL Boost running on the CPU vector neural network instructions (VNNI), or with 8-bit integer instructions on the GPU (Int8). Attractive in this context is the support of the Intel Open Vino ecosystem for AI, which comes with a library of functions and optimized calls for OpenCV and OpenCL kernels to accelerate deep neural network workloads across multiple platforms to achieve faster, more accurate results for AI inference.

CONGATEC I.MX 8M PLUS STARTER SET FOR AI ACCELERATED EMBEDDED VISION APPLICATIONS
This i.MX 8M Plus starter set for AI accelerated vision applications contains the entire ecosystem developers need to instantly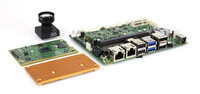 start designing applications on the basis of this next-generation platform, which offers highly efficient vision and AI integration. At the heart of the set is the new SMARC 2.1 Computer-on-Module conga-SMX8-Plus. It features 4 powerful Arm Cortex®-A53 cores, 1x Arm Cortex®-M72 controller and the NXP NPU to accelerate deep learning algorithms at the edge and comes with passive cooling. The 3.5 inch carrier board conga-SMC1/SMARC-ARM directly connects the 13 MP Basler dart daA4200-30mci BCON for MIPI camera with an F1.8 f4mm lens via MIPI CSI-2.0 without any additional converter modules. Next to MIPI CSI-2.0, USB and GigE vision cameras are also supported. On the software side, congatec provides a bootable SD card with preconfigured boot loader, Yocto OS image, matching BSPs, and processor-optimized Basler embedded vision software enabling immediate AI inference training on the basis of captured images and video sequences.
Typical applications are from price sensitive automated checkout terminalsto building safety, and from in-vehicle vision for navigation to surveillance systems. Industrial use cases include HMIs with vision based user identification and gesture based machine operation as well as vision supported robotics and industrial quality inspection systems
ELEMENT14 Stand D31

ELEMENT14 SIGNS GLOBAL DISTRIBUTION AGREEMENT WITH JABIL CUTTING TOOLS
element14, an Avnet Company and global distributor of electronic components, products and solutions, has signed a worldwide distribution agreement with Jabil Cutting Tools. Customers globally can now access an in-stock range of industry-leading cutting tools available for fast delivery. Jabil is recognised as a powerhouse in electronics manufacturing, and this is the first time the company has offered products through high service distribution.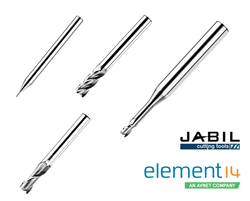 element14 is now stocking a range of products available for fast delivery from Jabil, such as the long-lasting high precision DK20004JS End Mill for mold steel. The DK20004JS is an ideal cutting solution for finishing and fine machining Mold Steel HRC 50±2 material used in industrial manufacturing operations. The cutter has a flute diameter 2mm tolerance +0/ -0.01mm with radius tolerance of ±0.01mm and a shank diameter of 4mm and a total length of 45mm. Jabil in-house coating capability extends the cutter's lifespan and performance.
DK01001ZO CBN ball endmill is another solution for high quality surface machining and high precision for mold steel HRC 50-68, the tool has a flute diameter 1mm with tolerance +0/-0.01mm and radius 0.5mm with tolerance ±0.003mm. Shank diameter 4mm and total length of 50mm.
ELEMENT14 FURTHER ENHANCES RANGE OF EXPERIENTIAL LEARNING TOOLS WITH INKSMITH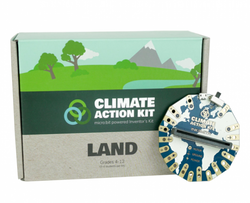 The Climate Action Kit by Inksmith encourages teachers and students to learn how to tackle environmental issues including deforestation through coding.
element14, an Avnet Company and global distributor of electronic components, products and solutions, has signed a global distribution agreement with InkSmith to enhance its educational product range and drive cross curriculum learning.
The Climate Action Kit's project-based learning experiences are designed to teach students how to apply technology to solve real world problems through the lens of the United Nations' Sustainable Development Goals (UN SDGs). Every project provides a unique hands-on opportunity for cross-curricular learning, with students encouraged to work collaboratively in groups or independently, in the classroom or remotely. Early to senior level students will develop coding and design skills through a variety of experiential learning challenges to design and prototype solutions using the BBC micro:bit.
Now Made in Canada, InkSmith's Climate Action Kit helps students take on climate change issues through challenge based learning. The kit introduces students to a variety of climate issues pertaining to SDG15: Life on Land. The projects allows students to explore topics such as deforestation and fertilization run-offs while challenging them to design their own solutions, such as automated tree planters or automated watering systems for vertical or indoor farming. Each of the following curriculum-aligned projects promote critical thinking and problem-solving while learning about environmental issues associated with advanced agriculture, deforestation, carbon farming, insect farming, and plants and pollinators.
Lee Turner, Global Head of Semiconductors and SBC at element1 says:
"The Climate Action Kit is the ultimate tool for modern educators wanting to stimulate inquiry-based learning and inspire students to solve real world problems using technology. Technology is our greatest asset to ensure our young leaders of tomorrow have the skills and capability to overcome major global issues such as poverty, climate change and societal justice. Farnell's market leading distribution network will dramatically expand the global reach of InkSmith's immersive, hands-on learning experiences and ensure educators can provide creative cross curriculum learning opportunities to students at every level."

RASPBERRY PI-DESIGNED PR2040 CHIP NOW AVAILABLE FROM ELEMENT14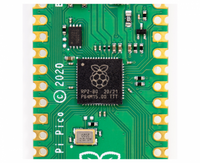 Raspberry Pi designed silicon chip found at the core of popular Raspberry Pi Pico development board now available as standalone chip.
element14, Avnet Company and global distributor of electronic components, products and solutions, has announced the availability of the 2040 chip built on Raspberry Pi-designed silicon. This new chip, which is at the core of the $4 Raspberry Pi Pico delivers a combination of high performance, low cost, and ease of use.
The Raspberry Pi RP2040 microcontroller offers high performance for integer workloads, a large on-chip memory, and a wide range of I/O options, making it a flexible solution for a wide range of microcontroller applications.
Professional design engineers who are already comfortable working with Raspberry Pi will easily adopt the Raspberry Pi Pico and appreciate its ease of use and affordability.
Key features include:
• Two ARM Cortex-M0+ cores clocked at 133 MHz
• 264 kB of on-chip SRAM
• 30 multifunction GPIO pins
• Dedicated hardware for commonly used peripherals alongside a programmable I/O subsystem for extended peripheral support
• Four-channel ADC with internal temperature sensor
• Built-in USB 1.1 with host and device support
Lee Turner, Global Head of Semiconductors and SBC at element14 said:
element14 is the longest standing Raspberry Pi partner and has sold more than 15 million units to date. element14 stocks the complete range of Raspberry Pi single board computers including the recently launched Raspberry Pi Pico, enabling customers to build a wide range of devices for home, professional, education or commercial use. Customers can also benefit from 24/5 technical support alongside free access to valuable online resources on the element14 website, and engineering and maker community, element14.
SC MANUFACTURING SOLUTIONS Stand A11

With over 30 years' experience we are here to provide you with the right products and service to keep your production going. Specialising in New Machinery and spare parts, service repairs as well as used equipment we are sure to have what you need. Whether it is a part for a feeder, motor, servo drive, camera, laser or cards we can source it all. Also featuring this year the ClusoInvManDynamic Smart Inventory Management System. Keep track of all your parts and retrieve them with ease. Drop by for a live demonstration. Replace your old troublesome mechanical feeders with high precision electric feeders. Improve your Juki or Yamaha's performance and improve pick-up reliability.Contact Stephen on 0490 542 877 or email This email address is being protected from spambots. You need JavaScript enabled to view it.
SHOW SPECIAL
InvManS2Dynamic Inventory Management System.

InvMan transforms your warehouse to a smart inventory management system that saves time & money also improves productivity and efficiency.
The system is very easy to use but also powerful in its function. It accommodates for quick and easy storage and retrieval of components. Allows multiple users simultaneous access to sock or remove components. Using BOM's, load jobs directly onto feeders/machines from the storage system eliminating kitting in advance which in turn unties your stock. Automatically sends alert emails when stock levels are low (safety stock). Reduces storeroom floorspace. ISO13485 Traceability tied to operator/machine/job/feeder etc. True oldest reel out first (FIFO), track parts in your dry cabinets, flag reels as empty so that you're not looking for something that does not exist, The list goes on.......
www.cluso.com.au/invman
Drop by for a demo and ask about the show special pricing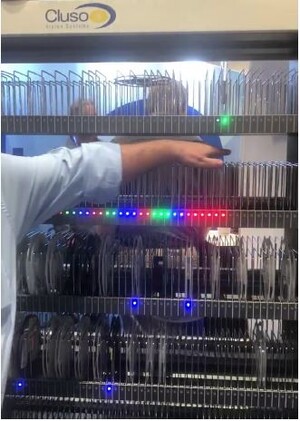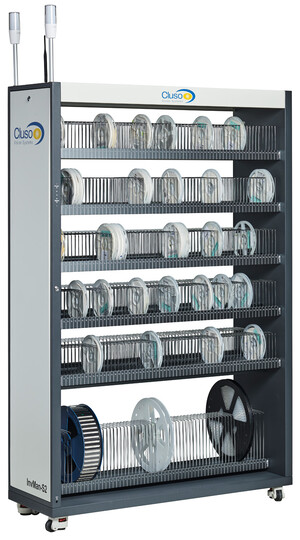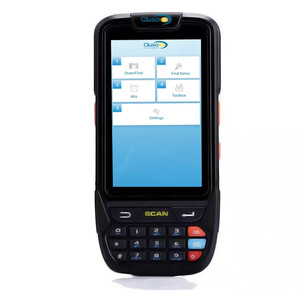 ON - TRACK TECHNOLOGY Stand C27

MANUFACTURE IN AUSTRALIA
Are you looking to Manufacture in Australia for your electronics? On-track Technology is a leading local flexible contract manufacturer with its new manufacturing facility situated in the Sydney metropolitan area of Milperra NSW 2214 and we have been helping many local businesses to re-establish there manufacturing back in Australia.
Since the start of COVID-19 Global Pandemic back in early 2020, and the more recent Global Silicon Chip Shortage, we have been experiencing increasing demands for local manufacturing of electronic PCB assemblies. Businesses that previously manufactured their electronic assemblies offshore, are now looking for manufacturing solutions to bring their offshore electronics manufacturing back into Australia.
With the COVID-19 Global Pandemic and the Global Silicon Chip Shortage, local businesses are being impacted by supply chains disruption, limited component supplies and longer components lead-times, and are finding offshore manufacturing less desirable with longer unreliable lead-times.
Whether you are wanting On-track Technology to help procure component kits or you are free issuing component kits to us, once a full component kit is received, we are providing our clients with reliable 2-3 weeks turnaround time on PCB assembly.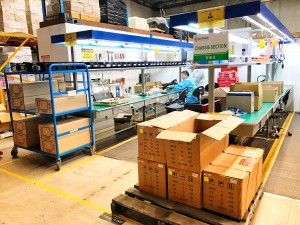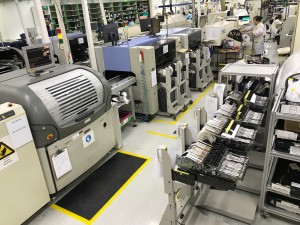 REID PRINT TECHNOLOGIES Stand B32

For over 30 years, Reid Print Technologies has established its reputation as a trusted and reliable brand in the Australian manufacturing industry. With dozens of awards under their belt, Reid Print Technologies leads as Australia's most advanced printed electronic manufacturer. With our in-house designers, Reid Print Technologies continues to manufacturer forefront quality technologies for industries across Australia and the world.
Recently, our manufacturing team has focused on the development and commercialisation of flexible printed circuits into industries.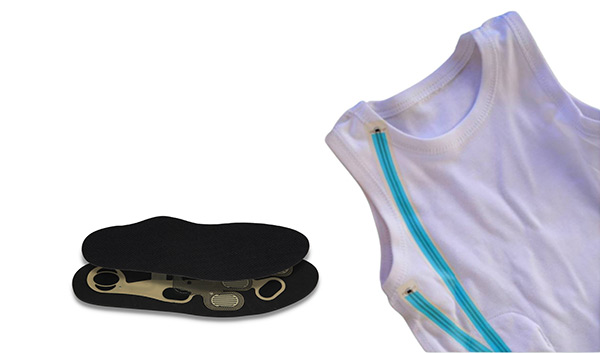 Wearable technology is a printed circuitry that transforms any material into a smart fabric, enabling many performance capabilities.
• Temperature Sensors
• Environmental Sensors (Gas detection, pollution monitoring, noise monitoring)
• Pressure Sensors (Forse Sensing Resistors -FSR)
• Moisture Sensors
• Vibration Sensors
• Pedometers
• Accelerometers
• Touch Sensors
• GPS Tracking
• Biometric Sensors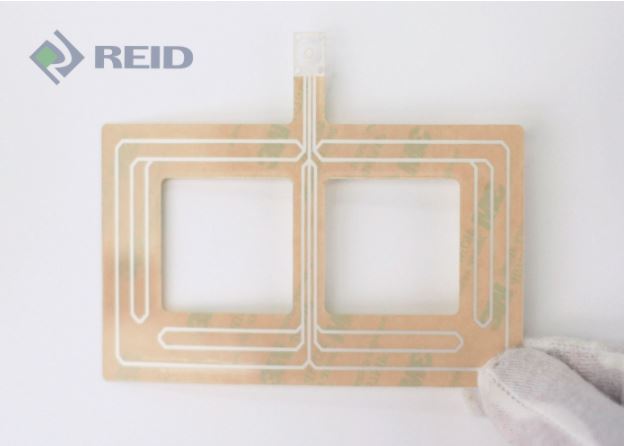 FPC UHF & RFID Antennas are manufactured on Polyester PET substrates. Features include low electrical resistance, excellent flexibility and easily applied to any surface using 3M transfer adhesives. Reid Print Technologies has the capabilities for VHF and UHF connectivity which currently range of up to 4ghz. Our recommended Industries include but are not subject to:
• Medical
• Defence
• Farming
• Industrial
• Automotive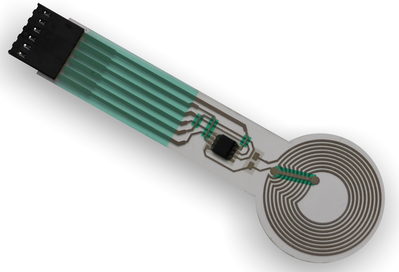 NFC - Flexible Printed Antennas Did you know that Reid Print Technologies can simply update most keypads into data transferring machines? NFC chips have changed the way we interact with the world around us. NFC is most commonly known for contactless payment in 2021, but there are so many more uses than meets the eye and it is so much more common in most products around us.
• You can, instantly connect to a WIFI- network
• Make payments
• Launce a website
• Automate tasks
• Share media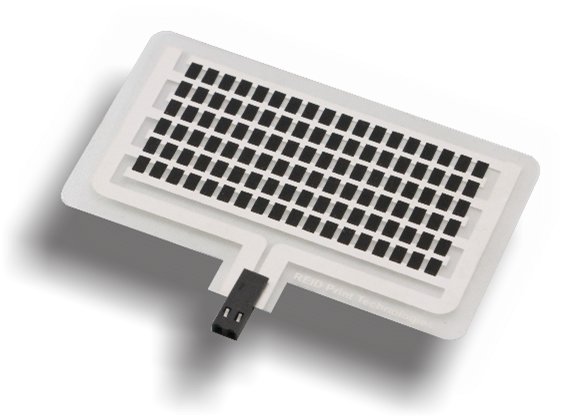 A flexible Positive Temperature Coefficient (PTC) heater is a modern solution to many issues of the industry. To its core, the flexible heaters are fully customisable and made to order. With a range of temperature resistances, shapes, sizes, and configurations, PTC flexible heaters provide a great way to enhance new and innovative products. PTC flexible heating circuits are well suited to a range of industries and applications:
• Medical
• Apparel
• Equipment and Devices
• Sports Performance
• Industrial
• Mining
• Automotive
• Aerospaceare
HETECH SOLUTIONS Stand C24

SAVE MONEY AND TIME WITH A CUSTOM BUILT TEST JIG FOR YOUR PRODUCT!
Hetech is offering FREE test jig review and consultation for the first three customers only!
We have built several elaborate and extensive jigs for clients in defence, mining and many more.
Test Jigs ensure that every build during in the production and manufacturing stage of your product is 100% working and operating as expected before delivery.
These benefits are achieved by testing various aspect of the product, such as potential errors in the PCB, board components and software.
Hetech can build any type of test jig to suit to suit your application such as "bed-of-nails" testing jigs, functional testing jigs and software / computer operated jigs.
What's included in your test jig consultation?
• Testing procedures and initial specification of the test jig
• Product design review for optimal testing compatibility
• Timelines and costing
Visit Hetech at stand C24 to claim your free consultation!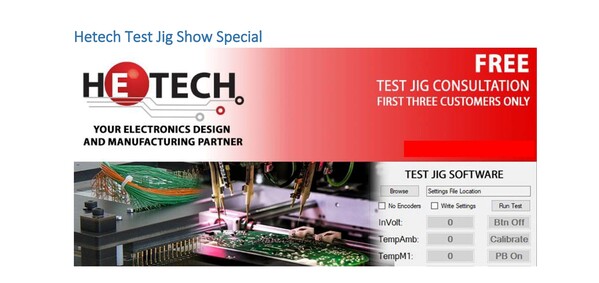 ALFATRON Stand B7

OPENING PCB FABRICATION FACILITY IN VICTORIA Q4 2021!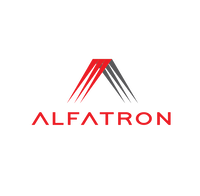 Alfatron is pleased to announce we are bringing PCB fabrication back to Australia! This will make Alfatron the only truly sovereign full-turnkey electronics contract manufacturer in Australia. Fast turn-around prototyping to full production run printed circuit board fabrication, assembly, testing and final product assembly.
Alfatron is investing heavily in Australian sovereign capabilities. PCB Fabrication is just step one in our goal in rebuilding Australia's manufacturing industry. DISP accredited, ISO 9001 and IPC 610 Class 3 certified.
We look forward in working with Australian companies to bring their manufacturing back to Australia!
NANO DIMENSION Stand B6
DragonFly IV
DragonFly IV is a Multi-material 3D Printer That Generates Entire Circuits in One Step – Including Connections and Components. By simultaneously 3D printing dielectric and metal materials and using 3D space DragonFly IV delivers and completely new way to design and prototype electronics.
Features & Benefits
New 3D Design freedom – Develop novel, high-performance devices without limits
Transformative Designs – FLIGHT software for freeform electro-mechanical design and miniaturization
High Performance - Build electronics with performance that meets or exceeds traditional devices
Reduce Waste - Eliminate waste water, toxic chemical waste, and reduce energy requirements
Design and Produce in-house – Seamless design to manufacturing process
Protect Your IP - Prevent IP theft by retaining your designs within your organization
Reduce Manual Labor - Eliminate human error and lengthy manual assembly times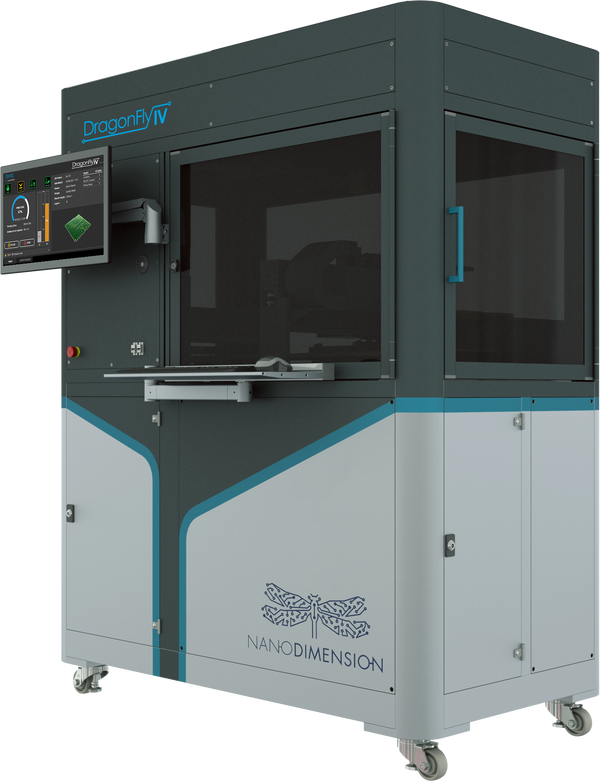 FLIGHT Software Suite
The FLIGHT software suite delivers the critical tools to take your 2D PCB design into 3D, ready for printing with DragonFly IV.
FLIGHT Plan enables bi-directional interoperability with a range of ECAD and MCAD software platforms, enabling you to turn your 2D designs into 3D PCBs.
FLIGHT Check analyzes and assesses your design to ensure compliance with DragonFly IV design rules
FLIGHT Control automates the 3D print file preparation and job management on DragonFly IV.
KEYSIGHT TECHNOLOGIES Stand A9

NEW HIGH-PERFORMANCE HANDHELD MICROWAVE ANALYSERFIELDFOX
The New High-Performance Handheld Microwave AnalyserFieldFox extends frequency and bandwidth range for advanced mmWave network troubleshooting, monitoring and testing to speed up installation of 5G, Radar and Satellite Communication Systems.
Keysight Technologies has introduced a new high-performance handheld microwave analyser that speeds installation of 5G, radar and satellite communication systems.
Keysight's FieldFox, an integrated handheld analyser with a task-driven user interface, incorporates spectrum and signal analysis, as well as signal generation capabilities. This enables FieldFox to accurately measure signal interference, antenna and cable performance, electromagnetic field (EMF) exposure levels, as well as pathloss in communication systems. Keysight's new high-performance installation tool ensures 5G services in frequency range 2 (FR2) can reach full connectivity potential.
Keysight's new FieldFox builds on the company's FieldFox B-series originally introduced in May of 2019, and delivers the following key customer benefits:
• Simplifies set-up and improves measurement results in any 3GPP-specified band in frequency range 2 (FR2) by extending the frequency range to 54GHz without the need for external mixers.
• Supports advanced channel aggregation and complex interference troubleshooting with an increased analysis bandwidth range up to 120MHz.
• Enables customers to confidently measure and analysemmWave signals with complex modulation schemes such as 256 Quadrature Amplitude Modulation (QAM).
• Delivers reliable analysis of complex signals with industry-leading low phase noise, high sensitivity and amplitude accuracy.
• Offers 5G NR beamforming analysis using phased array antenna control, critical in the deployment of multiple input, multiple output (MIMO) technology.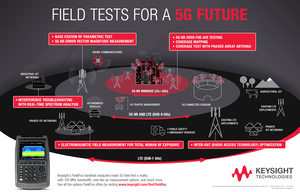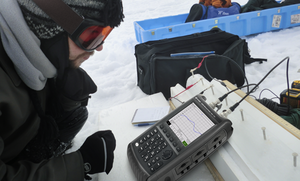 New Smart Bench Essentials (SBE) lab bench products offer a compact and stackable design ideal for small manufacturing, electronics, electrical testing businesses, R&D and modern university teaching labs
Keysight Technologies has launched a portfolio of Smart Bench Essentials (SBE) lab bench products that deliver the power of four instruments, including a triple-output power supply, an arbitrary function generator, a digital multimeter and an oscilloscope, through one combined graphical interface offering integrated data management and analysis capabilities.
Keysight's SBE series is a combination of hardware and software that accelerates an educators' teaching experience and students' learning experience, as well as improves an electronic design and manufacturing engineers' ability to analyse and troubleshoot products, delivering the following key benefits:
• Elegantly integrated, enabling users to focus on insights and core innovation, not managing instruments.
• Configure, control and monitor multiple instruments from a single screen.
• Test, analyse and share lab instruments and data remotely from anywhere, providing learning during the pandemic and global access to remote instrumentation.
• Automate common tasks from test set up, data collection, to report generation.
• Centrally manage an entire lab of instruments and configuration to maximize productivity.
Keysight's PathWave BenchVue application software complements the SBE series enabling customer to configure instruments quickly, while operating on the same PC screen to test device under test. It stores data on a PC and exports it in standard readable formats for post-analysis work and report generation.
GET A FREE HANDHELD LCR METER!
For a limited time, receive a free Keysight U1733C handheld LCR meter with a qualifying purchase of a Keysight power supply.
Powering an inductive or capacitive device can draw a large inrush current. Having an LCR meter helps you measure the reactance of the load so you can select a power supply that protects your device against over current.
PROMOTION CONDITIONS
www.keysight.com/au/en/cmp/promotions/buy-a-power-supply-get-a-free-lcr-meter.html
www.keysight.com/au/en/assets/7121-1043/flyers/Get-a-Free-Handheld-LCR-Meter.pdf
For more information: www.keysight.com.

SUBA ENGINEERING Stand A12

As a manufacturer and system supplier kolb provides for stencil and misprinted boards cleaning the complete process from a single source: including machinery, accessories, detergents and specially applied software controlled, fully automated electronic processes.
SUBA ENGINEERING represents Kolb in the Australia and New Zealand market. Come and see us at stand A12 where we will be doing LIVE Demonstration's on Kolb PSE 300 VL-RS their extremely compact first-rate performance PowerSpray® system which cleans screens, stencils, PumpPrints, squeegees and spatulas in smaller quantities with very short cycle times (< 10 min.) due to an intelligent 3step process with patented high-performance supercharger drying.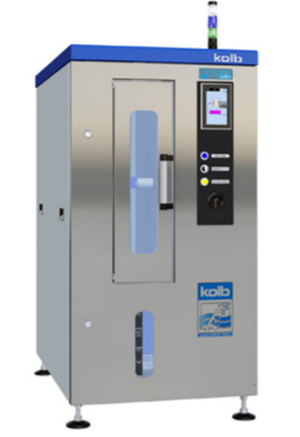 The kolb PSE line is a quality series of advanced cleaning systems, which focuses on all essential criteria for a qualified cleaning process and also has the smart factory Ind. 4.0 traceability option.
Highlights
• Compact space saving system
• Comfortable and smart only push-one-button operation
• Fully automatically looped 3step process: cleaning / rinsing, MediumWipe®, CWA® drying
• Water free process: no water connection, no wastewater connection, just power and air necessary
• Magnetic coupled XPower pumping unit
• Vertical two-fold rotor system with asynchronous spray rotors for thorough wetting (no blind spots)
• Short cycle time: < 10 min, depending on options, detergent and contamination
• Permanent filtration
• ClosedLoop re-processing of cleaning / rinsing fluid as standard feature
• Process and service intervals PC controlled
• Event issuing and software control via high resolution 7" display with capacitive multi-touch
• Extremely compact - very small footprint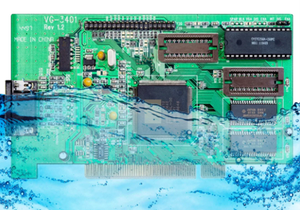 Ask us about Kolb's water-based & Odorless detergents.
The utilized water-based detergents guarantee an optimum effectiveness and at the same time ensuring best possible fining of the material. These certified detergents are scent neutral as well as pH neural. Both, the technological principle of the cleaning systems and the optimum cleaning power of the utilized detergents ensure an efficient cleaning process which leads to perfectly clean purified production tools.
APPVISION Stand A7

ADLINK MCM-210 SERIES WITH NEW MCM-216/218 EDGE DAQ
SOLUTION FOR TEST AND MEASUREMENT AND CONDITION MONITORING
Standalone edge device permits mass deployment of IIoT applications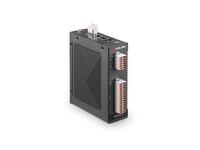 ADLINK Technology Inc., a global leader in edge computing, added MCM-216 and MCM-218 models to the MCM-210 standalone Ethernet DAQ series. MCM-216/218 Ethernet DAQ, based on ARM Cortex-A9 processors with built-in 16 or 8 channel, 16-bit, provide voltage or current input and can function as a standalone edge device without a host PC. The standalone Ethernet DAQ supports edge computing and includes a built-in web console and RESTful API for periodic machine condition polling.
The MCM-216 and MCM-218 represent a simple, scalable, sustainable edge device to overcome the challenge of mass deployment in IIoT applications. Dual daisy-chainable Ethernet ports eliminate additional networking equipment and extend the usable distance, reducing TCO and boosting overall ROI.
Powered by an ARM Cortex-A9 processor, the MCM series operates autonomously without a host PC and includes dual daisy-chainable Ethernet ports to eliminate additional networking equipment and extend the usable distance, reducing TCO and boosting overall ROI. Amongst the features are:
• ARM Cortex-A9 CPU is the ideal choice for edge computing needs
• Web console built-in for easy remote device configuration and updates
• Custom algorithms through the web console for edge analytics and control
• Safety verified including CE, FCC, -20 to 70℃ temp support, and isolation
• RESTful API with TCP socket, Modbus TCP, and WiFi support
• Rich DAQ 16-CH AI, 2-CH AO, 4-CH DI, 4-CH DO, 16-bit, 250KS/s
The MCM-200 series provides a full-spectrum edge DAQ solution for factory automation, IIoT, and traditional testing and measurement. The simple, scalable edge device overcomes the challenge of mass deployment for IIoT applications. Amongst the successful use cases are digitization of a semiconductor factory, petrochemical plant monitoring, and wafer feeder vacuum pump monitoring. For more information, visit the product www.adlinktech.com/Products/IoT_solutions/Smart_Factory.

CEYEAR 4024L HANDHELD SPECTRUM ANALYSER
The World's first 9kHz~67GHz Handheld Spectrum Analyser in the industry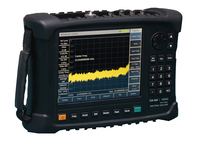 Ceyear a global leader in RF and mmWave test and measurement equipment provider, added Ceyear 4024L Handheld Spectrum Analyser to the handheld spectrum analyser portfolio.
Ceyear 4024L has a wide frequency range, high performance, high sweep speed, various functions, and easy operation. In terms of performance specifications, it has advantages of excellent displayed average noise level, low phase noise, and high sweep speed; In terms of measurement functions, it enjoy rich measurement functions of spectrum analyser, interference analyser, AM/FM/PM analyser, power meter, channel scanner etc., as well as intelligent measurement functions of channel power, occupied bandwidth, adjacent-channel power ratio, tune & listen, emission mask, and carrier-to-noise ratio etc. 4024L deploys the integrated design of 8.4-inch LCD and capacitive touch screen, which improves the display definition and operation convenient. The series are handheld, compact and lightweight, with flexible power supply, which are very suitable for field work.
4024 can be used for signal and equipment test in the fields of aerospace, microwave and satellite communication, radio communication, radar monitoring, electronic countermeasures and reconnaissance, and precision guidance.

INFIRAY M600 THERMAL CAMERA
The World's first12um pixel resolution thermal camera with 640×512 thermal resolution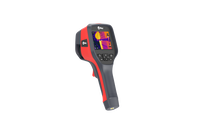 InfiRay is a global thermal testing equipment developer leader who is focused on developing infrared thermal imaging technologies and manufacturing relevant products, with completely independent intellectual property rights. InfiRay® is committed to providing global customers with professional and competitive infrared thermal imaging products and solutions. The main products include thermal detectors, thermal imaging modules, and terminal thermal cameras and imagers.
InfiRay M600 Series Handheld Infrared Thermal Imager is a high-resolution manual focusing thermal imaging thermodetector. It provides with a built-in InfiRay self-developed 12μm high-performance 640×512 infrared thermal imaging core chip and a 5-million-pixelvisible light camera of 35 mK thermal sensitivity and 30 Hz high frame rate. With its accurate manual focusing function, it can save focusing time and provide accurate data and clear images to meet the requirements of research and analysis work. With its excellent characteristics, M600 Infrared Thermal Imager is the right-hand assistant of engineers in scientific research, professional equipment, and building inspection.
ROBERT BOSCH (AUSTRALIA) Pty Ltd Stand D25
Bosch Australia Manufacturing Solutions (BAMS) is a leading provider of testing solutions for Australian manufacturers. We rely on 135 years of Bosch quality and expertise to help elevate Australian manufacturers.
For our customers, we apply a 'global/local' approach. We draw on the experience, knowledge and resources of talent across the globe for manufacturing solutions here in Australia. Simply put, this means our customers receive manufacturing and logistics solutions that are innovative while delivering world-class results.
We provide the following.
• Bespoke integrated testing solutions
• Portable testing systems
• Product test systems
• Robot-based automation
• Vision & sensing systems
• AGV / AMR solutions
• Communication interfaces
• Data analysis
• Data acquisition
Connect with us on LinkedIn to learn more www.linkedin.com/showcase/bosch-australia-manufacturing-solutions-bams.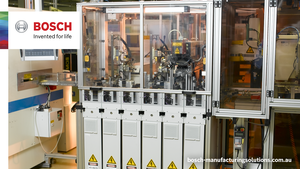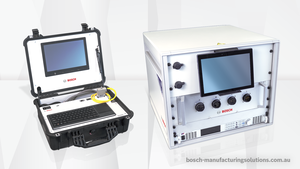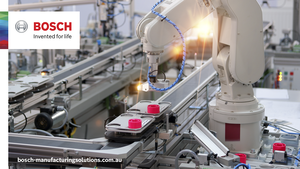 ONBOARD SOLUTIONS Stand B16

ONBoard Solutions is an ISO 9001 credited supplier of production equipment for manufacturing, cleanroom products and advanced materials to the Australian and New Zealand market.
Founded in 2000 ONBoard Solutions' focus has been supplying automation equipment including product solutions for the critical environment for various manufacturing industries across Australia and New Zealand. Our Global Partners across the world stand for innovation, product quality and service. We are committed to offering the best quality products, at the right price delivered on time, every time.
Quality and the associated safety of your employees is the highest priority for us: that is what we stand and work for. To ensure this, we will provide ongoing support in the selection and subsequent use of our products. By offering you not only the products but also the associated services we can make sure that the products are used correctly and compliant to your application.

ONBOARD SOLUTIONS EXCLUSIVE SHOW SPECIAL OFFER
Purchase a Quick 861DW Hot Air Soldering Rework Station for $399, excluding GST. Regular price $595 excluding GST.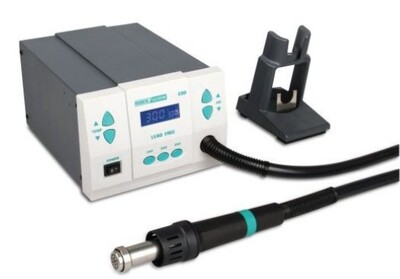 Quick 861DW Hot Air Soldering Rework Station
• Three regular channels"CH1″, "CH2" and "CH3", each channel's parameters including temperature and airflow can be set.
• Password protection and key-lock functions.
• Real time operation by the magnetic switch, enter sleeping state when the handle is placed on holder.
• Auto sleeping function, parameters can be set in sleeping mode.
• Closed-loop sensor, temperature can be controlled by zero voltage triggering mode and adjusted conveniently, accurate and stable, not affected by airflow. Large power, rapid heating.
• A multipurpose unit, with brushless whirlpool motor, wide range and stepless adjustable airflow.
• An automatic cooling system can prolong the lifetime of heating element and protect the handle.
Product Specifications
• Power Consumption 1000W
• Temperature Range 100℃ -500℃
• Airflow Range 1-120 class
• Max Airflow 120L/min
• Size: 188(L)×245(D)×135(H)mm
• Weight: 3.65kg
TERMS AND CONDITIONS FOR EXCLUSIVE SHOW SPECIAL OFFER
Reduced pricing valid for orders placed from 15/09/2021 until 11.59pm AEST 24/09/2021, or while stocks last. No rainchecks. ONBoard Solutions reserves the right to change or rescind this offer at any time.
Promosolv 70ESProduct Description - Promosolv 70ESCleaning &Flux Removal Solvent
Promosolv 70ES has been developed as a specialty solvent to clean the residues from solder pastes and solder fluxes.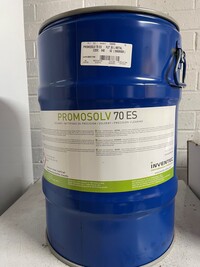 The solvent is an azeotropic formulation of the methoxynona fluorobutane (C4F9CH3), 1,2-trans-dichloroethylene and ethanol, and is clear, colourless and has only a slight odour. It is designed to replace the existing solvents having an ODP and to be used with ultrasonic cleaning. Its medium range boiling point and its very low surface tension provide the Promosolv 70ESwith outstanding flux removal and drying characteristics when used in vapour phase with azeotropic mixtures.
The formulation provides an increased solvency power over the Promosolv 70.
This High-Tech fluid has no ODP. Its chemical stability and its exceptionally low toxicity result in a product that is safe to use and that is environmentally friendly.

Humiseal UV20Product Description - Humiseal UV20GEL High-Performance Staking & Vibration Protection UV Gel
Humiseal UV20GEL is a fast curing, non-sag thixotropic paste which cures to give a flexible urethane acrylate that bonds well to engineered plastics and metal-based substrates. In addition to the UV cure, this material has a secondary moisture cure mechanism to ensure cure in areas shadowed from UV light.
The gel is designed for staking and vibration dampening applications, but doubles as a high-performance adhesive for general printed circuit board bonding applications.
Applications includes
• PET/RPET Clamshell Bond
• Plastic Bonding
• Mechanical Shock Protection
• Components staking
• Vibration protection
Features
• RoHS & REACH Compliant
• Shadow Area Cure
• UV Fluorescing
• Fast UV Cure
• Sag Resistant

BOM Connector Product Description - NEW Siemens BOM Connector
The new Siemens BOM Connector is the most complete BOM tool on the market for accurate quoting in an EMS environment. Streamline your component procurement process and create accurate quotations with less time and effort, without needing input from manufacturing process engineers.
BOM Connector helps you create more accurate quotes much quicker and provides a powerful database "backend" to track and reuse your work for future projects.
BOM Connector works seamlessly with Siemens Valor MSS Process Preparation to close the loop on NPI Process to include the often disconnected and manually slow process of generating costing for BOM Materials need for an Electronic Assembly.
Customer data is pulled into the BOM Connector database via direct connections to the key data sources. Most important of these is the ERP system. Additional sources of technical or commercial data, such as a CMS system or a PLM system can also be connected. And of course, PCB data or manufacturing process data can be brought in from an MES system. In short, wherever you have information that can be used to improve your BOM data and quotation process flow, BOM Connector will interface to it.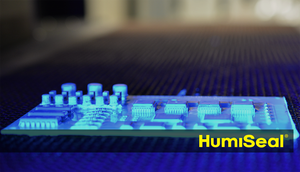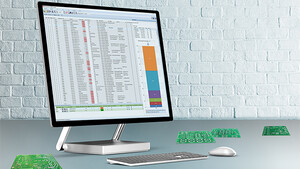 EMONA INSTRUMENTS Stand B1

New Rigol 3GHz & 5GHz High Performance DSO
Emona Instruments, the Australian distributor of the popular Rigol range of test and measuring instruments will launch the new DS70000 series high performance DSOs at Stand B1 at Electronex 2022.
The DS70000 StationMax Series is available in either 3 or 5 GHz bandwidths and combines the new UltraVision III oscilloscope technology and UltraReal spectrum analysis technology into RIGOL's most powerful test and measurement instrument ever.
The innovative UltraVision III platform combines updated oscilloscope and spectrum analysis technology with its custom front-end Phoenix ASIC chipset. In addition to 3 or 5 GHz bandwidths, StationMax provides 4 channels, 20 GSamples/sec sample rate (10 GSa/sec on all channels), 1 million waveforms/sec capture rate, 2 Gpts maximum storage depth, and high resolution measurements up to 16 bits.
The DS70000 series provides users with a completely new interface designed around the unique 15.6" multi-touch tilting display. Powerful analysis capabilities include real-time spectrum analysis, multi-domain analysis, eye diagram and jitter analysis, high speed bus compliance, and serial bus decoding.
Complementing this powerful instrument is also a new family of high-speed precision probe solutions. These active differential probes are available in 3.5 and 7 GHz models delivering excellent 3 and 5GHz measurements to the probe tip.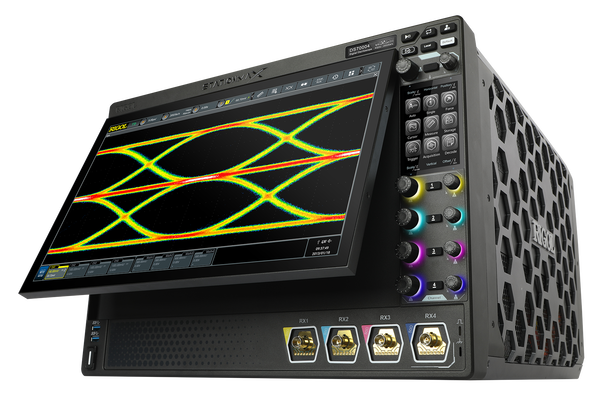 World's Thinnest 1U High 2GHz Oscilloscopes
Emona Instruments has released the Rigol DS8000-R Series 4-channel Digital Oscilloscopes. These compact 1U half-rack-width instruments are available in 350MHz/1GHz/2GHz versions with a maximum sampling rate of 10GSa/s. In addition to their use installed in a test rack cabinet, these instruments can be conveniently used on a workbench, occupying minimal bench space and appropriately angled using the built-in prop feet.
The DS8000-R series has been designed around Rigol's proprietary Phoenix ASIC chip and UltraVision II technical platform. It integrates six independent instruments into one unit, including a digital oscilloscope, a spectrum analyzer, a 25MHz arbitrary waveform generator, a digital voltmeter, a high-precision frequency counter and totalizer, and a serial protocol analyzer. All extensions, such as higher bandwidth, serial decoding, and the AWG functions, are available via software upgrade, even after purchase. The DS8000-R series of scopes offers a memory depth of 500Mpts and a waveform capture rate of up to 600,000wfms/s. This enables glitches and infrequent events in waveforms to be quickly identified, greatly improving an engineer's debugging capabilities.
The DS8000-R series does not have an LCD display or monitor but relies on an external display or PC for parameter setting and viewing measurement results. A web browser, a PC, or a USB-connected mouse or keyboard can be used to control these oscilloscopes. The optional two-channel 25MHz AWG can provide 13 pre-defined waveforms, while the optional Serial Protocol Analysis and Triggering mode can decode RS232/UART, I2C, SPI, CAN, LIN, FlexRay, I2S, and MIL-STD-1553 signals. Connectivity includes USB, LAN, and HDMI as standard, with USB-GPIB, and SFP+ as options.
The unique SFP+ optical transceiver interface provides 10Gb/s data transmission. When performing the acquisition of large amounts of data remotely, the DS8000-R series, when equipped with the HSDC option, ensures real-time and reliable transmission requirements needed by industrial automation and other challenging tasks. The DS8000-R features real-time eye diagram and jitter analysis, as well as jitter trend representations for digital analysis applications.
The DS8000-R series supports multi-unit synchronous triggering to extend the number of input channels. This provides an excellent solution for multi-channel data acquisition and system test integration requirements. Several racks of DS8000-R scopes can be cascaded together with a synchronization module to create a multiple channel measuring device with up to 512 synchronized analog input channels.
WURTH ELECTRONICS AUSTRALIA Stand C12

WürthElektronik eiSos Group is a manufacturer of electronic and electromechanical components for the electronics industry and a technology company that spearheads pioneering electronic solutions. WürthElektronik eiSos is one of the largest European manufacturers of passive components and is active in 50 countries. Production sites in Europe, Asia and North America supply a growing number of customers worldwide.
The product range includes EMC components, inductors, transformers, RF components, varistors, capacitors, resistors, quartz crystals, oscillators, power modules, Wireless Power Transfer, LEDs, sensors, connectors, power supply elements, switches, push-buttons, connection technology, fuse holders and solutions for wireless data transmission.
The unrivaled service orientation of the company is characterized by the availability of all catalog components from stock without minimum order quantity, free samples and extensive support through technical sales staff and selection tools.
Through its technology partnership with the Audi Sport ABT Schaeffler Formula E Team and its support for the Formula Student racing series, the company demonstrates its innovative strength in eMobility
(www.we-speed-up-the-future.com).
WürthElektronik is part of the Würth Group, the world market leader for assembly and fastening technology. The company employs 7,300 staff and generated sales of 823 million euros in 2020.
WürthElektronik: more than you expect!
WE-AGDT
The WE-AGDT series from Würth Elektronik allows implementing discrete SiC gate driver designs easier than ever before. These standard parts are compact SMT transformers optimized for silicon carbide applications. With extremely low interwinding capacitance, the WE-AGDT helps to achieve higher Common Mode Transient Immunity (CMTI). The series is compliant with safety standards according to IEC62368-1 / IEC61558-2-16 in addition to AEC-Q200 qualification. Reference designs are available for each WE-AGDT transformer. The complete solution is compact and capable of fully automated assembly.
MEMS Sensor Portfolio
Sensors are an integral part of every future application. Measuring Temperature, humidity, pressure or acceleration has never been easier. Take advantage of services like our Software Development Kit and Evaluation Boards available off-the-shelf. Detailed documentations as well as the direct
support by trained engineers will leave no questions open.
With excellent measuring accuracy and long-term stability, the sensors provide high precision and accurate output values with intelligent on-chip interrupt functions.
Single Pair Ethernet
Würth Elektronik offers the full industry fitting solution for Single Pair Ethernet on the PCB. The SPE design is the first to be fully compliant with IEEE 802.3 signal requirements while also fulfilling Ethernet safety requirements for 1.5 kV isolation. Take advantage of the first compact, high performance SPE design with safety isolation according to IEC 62368-1. Products available from stock. Samples free of charge.
Tact Switches
The Tact Switches from Würth Elektronik are characterized by performance stability and long lifetime. All metal elements are corrosion resistant proven by a 48 hours salt spray test. Polyimide tape or silicone rubber protect the switch even in tough environments. The switch range includes various high quality solutions like dip, rotary, detector, micro, slide, rocker switches and encoder.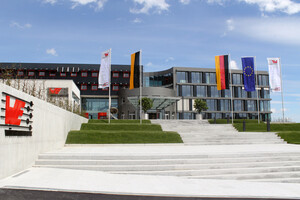 UV PACIFIC Stand B30

ECODUOMIX450
The ecoDUOMIX450 is the latest development by ViscoTec of their preeflow range of adhesive dispensing tools. Using the well established positive displacement technology of the ecoPEN, theecoDUOMIX combines a two component dispensing head with dynamic mixing. While having advantages across all two component applications, the use of dynamic mixing overcomes problems associated with cases were the two materials have widely different viscosities. The range of applications include silicones, epoxies, polyurethanes and acrylates. The small disposable mixing capsule has a volume of 0.85ml thus minimising the material wastage compared to static mixers. Weighing less than 2kg this compact unit is pressure tight but without any valves making cleaning easy. Dispense rates vary from 0.2 to 12ml per minute (1:1 ratio) and the mix ratio can be set between 1:1 and 10:1. The mixing speed has arange from 200 to 2000rpm. Dispense accuracy is +/- 1% and repeatability is better than 99%..
UV Pacific Pty ltd will be demonstration the ecoDUOMIX450 mounted on a Janome robot suitable for a large number of applications in electronics and medical industries.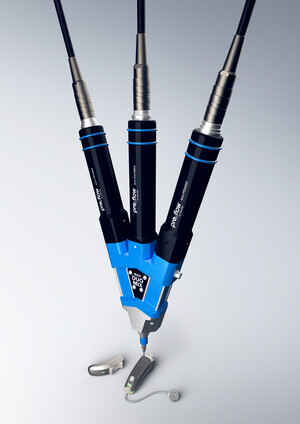 SUCCESSFUL ENDEAVOURS Stand B29

Successful Endeavours develop smart electronics products that are intended for manufacture in Australia. These are typically higher value products performing sophisticated monitoring, communications or control functions or where unique features, size, power consumption, performance, battery life or cost effectiveness are the primary commercial drivers.
And hasn't the last year and a half shown us all how important it is to be able to make critical infrastructure products locally.
Custom IoT devices and the supporting technical web services are a speciality and we are the current holders of the Environmental Solution Award for Australia and Manufacturer of the Year for our region of Melbourne.
Successful Endeavours brings consulting class product development services to the SME sector at a price point that makes new commercial opportunities affordable to companies that would otherwise not be able to bring their idea to market. Over the past 24 years this has seen more than 2000 projects completed with the vast majority of the products developed being manufactured in Australia.

As an extension to the high technology R&D product development services, Successful Endeavours also offers turnkey manufacturing for the product developed where the end customer is not a local manufacturer or does not want to manage the manufacturing logistics chain. This allows products to be brought to market that would otherwise have gone to overseas manufacture or not been made at all.
Our market is Australian based electronics manufacturers and entrepreneurial businesses that want to make a high quality product in Australia and want to be able to do that profitably.
Designing electronics products that are made in Australia are as follows.
• Electronics Design
• PCB Layout
• Embedded Software
• Prototypes and Manufacture
• IoT Web Services
Winners of the IoT Innovation Award for Australia in 2018, Manufacturer of the Year for Casey Cardinia Region 2019 and Environmental Solution for Australia 2020.
FUSECO Stand B12
Since 1996, Fuseco has been synonymous with quality brands and great customer service. Fuseco imports and distributes specialist electrical products to the Australian & NZ markets. Our brands are carefully selected to ensure that they are well respected for quality, reliability and safety. The quality of the brand has an important part to play in customer peace of mind.
Our product range includes:
• Test Equipment
• Programmable Power Supplies and Loads
• EMC Chambers
• LV and MV Fuses
• Protection Relays and CTs
• Power Quality Products
o Active & Passive Harmonic Filters, Chokes, Sine and dV/dt filters, Voltage Regulators
• Power Factor Correction
o SVG - Static VAR Generators
o Switched Capacitor Bank Systems
• RFI Filters
ELEXON Stand D6

Elexon Electronics is an innovation company specialising in the design, development and manufacture of a diverse range of electronics for niche markets. In the 25 years of operation, our engineers have developed a range of highly innovative and commercially successful products for a wide range of industries such as mining, pathology, automotive and recently defence.
Elexon's talented engineers and designers are always empowered to think outside the box. We like to solve problems in original and inventive ways, and we pride ourselves on developing products that exceed customers' expectations.
OUR PROJECTS
• Blast resistant electronic systems for the mining industry
• In-ground and through-rock communication and location systems
• Low-frequency RFID reader systems
• Human-machine interface and real-time system control
• Ultrasonic recording systems
• Battery power storage systems
• Water quality analysis systems
• Mobile digital signage systems
MANUFACTURING COMPETENCIES
• PCB and product assembly
• Intelligent Factory 4.0 SMD assembly line including:
o Jet solder paste printing
o Vacuum vapour phase reflow
o Automated material handling
• Final unit assembly and testing
• X-Ray inspection
• Fast turnaround prototyping
• Mobile digital signage systems

WHY ELEXON ELECTRONICS?
• 100% Australian owned
• Excellent engineering team
• Wealth of IP supporting delivery of new innovative solutions
• Complete control of product quality and lead times
• Product lifecycle management (development, manufacturing, service and support)
• Full traceability at component level
• In-house testing (environmental, mechanical and impact testing)
• Industry 4.0 Factory
CERTIFICATIONS AND ACCREDITATIONS
• ISO 9001:2015 certified
• IPC-A-600/610/620
• ISO 14001 preparation (certification in November 2021)
• AS9100D preparation (certification in November 2021)

Elexon Electronics recently responded to a growing customer demand for a local superefficient and capable manufacturing partner by commissioning a new cutting-edge production facility. The investment of $2 million enables Elexon to create new manufacturing jobs for Queenslanders, avoid off-shoring and deliver the highest quality printed circuit board assembly.
Elexon Electronics heavily invested in top of the range, fully automated surface-mount technology (SMT) equipment from leading European electronics machinery producers Mycronic AB and Asscon GmbH. Our new Intelligent Factory 4.0 offers much faster, more cost effective and zero-defect production of electronic products. But what really sets us apart from the competition is our intelligent material handling system that allows complete traceability and a final X-Ray inspection for ultimate quality assurance.

THE NEW SMT INTELLIGENT FACTORY4.0 (IF4)LINE
Solder paste Jet Printer MY700
Depositing the right amount of solder paste onto the PCB is the "make or break" process in the PCB assembly process. The conventional technology was to apply solder paste with a stencil. This required a screen to be boughtand very common quality problems if the screen was not kept perfectly clean. Most importantly the stencil was not able to apply the correct amount of solder paste on boards where there is a mix of very large and very small components. The Mycronic MY700 Jet Printer represents a quantum leap forward. It allows to individually optimize the shape and amount of solder paste for each individual solder joint, from micro BGAs with 0.4mm pitch to large through hole components where we apply pin-in-paste technology.
Intelligent Pick & Place MY300 (2 machines)
The Mycronic MY300 is the most versatile Pick & Place machine on the market, perfectly suited for high mix – medium volume production. It can place the entire spectrum of SMD components. The feeder capacity of 320x 8mm feeders, combined with the smart feeders and intelligent inventory management allows us reduce the changeover times and to have multiple products running in parallel.
Vacuum Vapor Phase Reflow ASSCON VP7000
This is the soldering technology of choice for medical and defence customers. By the nature of this technology, every board is perfectly soldered in an inert atmosphere, at a defined temperature. The oven has an inbuilt smart profiling feature (Dynamic Profiling) that allows for consistent temperature profiles, regardless of whether it is a light flexible board or heavy 24 layer PCB. The vacuum allows us to achieve a void content in the solder joints of less than 2
GLYN HIGH - TECH DISTRIBUTION Stand C31
GLYN High Tech established in 2003 is a specialty electronics distributor serving the ANZ region.
What sets Glyn apart from its competitors is the extensive in-house engineering knowledge and relevant industry experience.We will help you create a cutting-edge solution that gives you strong technical competitive advantage, lower cost, and faster time to market.
We support our customers by partnering with reputable brands to cover the main pillars of IoT:
• Sensors
• Processing
• Power
• Wireless Technologies
If you have any current or future projects that we can support you in, please feel free to reach out at This email address is being protected from spambots. You need JavaScript enabled to view it..
ALTRONICS Stand A2
Altronics has released a new range of high grade lithium batteries under the Powerhouse brand offering long run remote power and back up situations. The lithium iron phosphate (LiFePO4) chemistry is a very stable chemistry which offers safety benefits and easy charging. Each battery is fitted with it's own battery management system or BMS, which controls the charging and discharging to ensure safe operation at all times. They offer the equivalent output of their lead acid counterparts with half the weight, longer run times and greater environmental benefits at their end of life. The new range is designed to offer drop in replacement for SLA lead acid batteries ranging from 8Ah to 300Ah.High Tech established in 2003 is a specialty electronics distributor serving the ANZ region.