Many of the exhibitors will be releasing or demonstrating new products at the Expo.
Following is just a sample of what you will see. Don't forget to try the Race Simulator on the Wurth Elektronik stand at the show as well.
ORITECH Stand B34

Oritech launches new range of SMT equipment solutions
Leading electronics industry supplier Oritech has announced it has officially launched a new range of Surface Mount Technology (SMT) equipment solutions for the Australian market.
Their new range is being marketed under the name Oritech Automation and is headlined by the Europlacer range of pick and place machines. Oritech Automation provides a wide range of SMT solutions for electronics manufacturers including:
• Stencil printers
• Pick and place / surface mounters
• Selective and wave soldering
• Reflow ovens
• X-Ray and AOI
• Conveyors and board loaders
• Storage cabinets, and magnifiers and microscopes
Oritech has been servicing the electronics industry for the past 15 years and their new range of SMT solutions is a natural progression for the company. Supported by dedicated service personnel, they now provide the market with world leading products and an additional option for manufacturers looking for the next generation in SMT equipment.
About Europlacer
By specialising in SMT pick and place machines, Europlacer offers the quickest investment payback for high-mix assembly CEMs and OEMs. Our extensive multi-functional capability, simple upgrade paths and award-winning customer services combine to deliver the competitive edge our family of customers seek. Find out more at www.europlacer.com.
Oritech has been involved in supplying professional tools and equipment related to the electronics manufacturing and service industry for over 15 years. They support research and development and the electro-mechanical fields, as well as tools and tool kits for on-site service and installation technicians. They are renowned for our high level of customer service and quality products.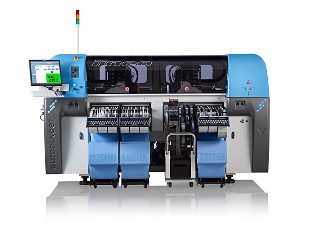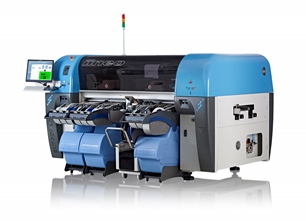 10% off Ash Digital Inspection Magnifiers and Microscopes
Ash Technologies designs and delivers compelling digital vision and measurement solutions, designed and executed with beauty and simplicity.
Their range of products have been designed to aid with inspection and rework tasks undertaken by electronic technicians. All their products provide over 200mm of focal length / working range and include:
• The Omni Digital Microscope: Delivers superb full HD live video image quality at 60 frames per second. Offers a powerful suite of measurement features including full image capture. And there's no need for an additional PC!
• The Inspex HD 1080p Digital Microscope: Accurate & detailed inspection with dynamic range of magnification levels and integrated LED illumination. Its versatile design makes it compatible with a wide range of mounting options. Again, there's no need for an additional PC!
• The Ion 4.3" Handheld Digital Microscope: The Ion is comfortable to hold and highly intuitive to use as the product has been designed to replicate the look and feel of an optical magnifier. Its portability is great for field work and combined with measurement grids and image capture, greatly enhance the capability and efficiency of decision making for inspection operators and technicians.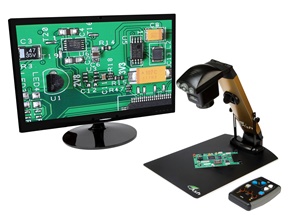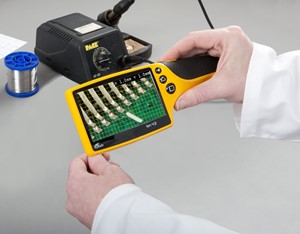 10% off JBC Soldering Solutions
More than 80 years of experience have placed JBC at the technological forefront of tools for soldering and rework operations in electronics. Innovation, efficiency and reliability are the key features of a wide range of products which have been designed to satisfy the most demanding requirements of professionals.
Oritech, one of Australia's leading suppliers of JBC products, is offering 10% off popular JBC products at Electronex 2017. Applicable until the end of September 2017 and only available to attendees of Electronex, products include soldering and de-soldering stations, hot air rework, portable soldering irons, tips & spares and accessories.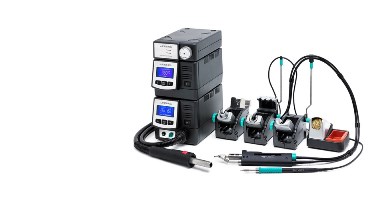 ALFATRON PTY LTD Stand A5
Alfatron Pty Ltd is an Australian owned and operated company providing quality electronic design and manufacturing services. Specialising in fast-turnaround prototypes, small to medium projects, design review, components procurement, manufacture, test and assembly. Alfatron caters to customers requiring full turnkey projects or partial build requirements.
All purchasing, engineering, testing and most importantly manufacturing is performed in-house in our modern facility in Ringwood, Victoria. Alfatron uses the latest technology and equipment to manufacture Printed Circuit Boards assemblies.
Alfatron offers a fast turnaround prototype service which offers many benefits to customers. The technology of the MY500 Jet Printer, removing the need for stencils, improves precision and allows for faster turnaround on prototypes.
With AS/NZS ISO 9001:2008 Accreditation with Lloyd's Register, Alfatron places emphasis on quality at all stages of production – from the very first meeting, parts sourcing to manufacturing, right through to packing and shipping.
When quality matters, Alfatron is the place to go for electronic design, prototyping, and assembly requirements.
HAWKER RICHARDSON Stand A24

Mantis Elite-Cam HD Microscope
The Mantis Elite-Cam HD is the latest update in the popular Mantis stereo microscope range. Combining the ergonomic benefits of unique eyepiece-less technology and with the imaging power of a HD camera, Mantis Elite-Cam HD is the ideal solution for inspection, reworking and reporting. Mantis Elite offers a large field of view and generous working distance to allow for a wide range of inspection, preparation and manipulation tasks, all enabling exceptional hand-eye coordination. Patented optical technology of Mantis removes the need for restrictive eyepieces of a conventional microscope, allowing operator's freedom of head movement, providing superb ergonomics and hand-eye co-ordination, plus the ability to wear prescription or safety glasses, if required. Mantis Elite-Cam HD is available with magnifications up to 20x as well as flexible stand options, including a low profile bench stand with integral substage illumination.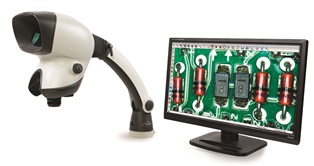 EVO Cam Quality HD Digital Microscope
A high performance HD digital system with spectacular full-HD (1080p / 60fps) live video image used predominantly for quality control, testing, inspection and documentation. Lynx Evo simplifies precision magnification tasks allowing you to focus on the details as well as effortlessly capturing images direct to usb memory stick. Capture full- HD images without the need of a PC. Live imaging is captured at the touch of a button allowing for stunning detail with magnification options up to 300x.
- Stunning full-HD 1080p / 60fps live video
- Large 30:1 optical zoom with magnification up to 300x
- Stand-alone simplicity, with image capture direct to USB memory stick (without a PC)
Optical performance makes EVO Cam a supreme powerful imaging solution with a range of objective lens options to ensure stunning results for any application. Exceptional simplicity minimises training requirement, making EVO Cam a powerful and flexible tool, ideal for multiple users, or production environments.
- Simplicity to view whole samples, or the smallest detail at the touch of a button.
- 360° rotating viewer provides an angled all-round view of the subject (optional)
- High quality stand options, built for precision and stability.
- Stand-alone, direct to monitor simplicity.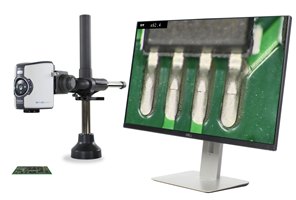 Lynx Evo Microscope
Lynx EVO is a high productivity stereo microscope without eyepieces, powering your productivity through stunning 3D imaging. The unique patented eyepiece-less optics of Lynx EVO liberates users from restrictive working practices, opening up a world of enhanced efficiency through unrivalled ease of use and ergonomic performance. The Lynx Evo is ideal for inspecting PCB's, quality control of manufactured parts or performing critical checks
In addition to unrivalled ergonomic benefits, Lynx EVO has the flexibility to be tailored to your requirements. Modular design allows tailoring for individual applications. 10:1 zoom ratio provides 6x - 60x magnification, increasing to 120x with supplementary lenses. Integrated HD camera/software (option) provides seamless image/video capture and annotation capabilities. The Lynx Evo's has a long working distance for easy sample manipulation and flexible stand options, ideal for industrial and life science applications.
• Intuitive software interface
• Powerful software measurement functions
• Meets all CE safety requirements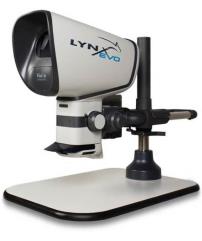 Finger Feeders
Feeder fingers are the perfect accompaniment to your feeder tapes. They are designed to elevate the efficiency of existing OEM Feeders. By attaching the Feeder Finger to existing production feeders, the load and unload times can be reduced to seconds, allowing the operator to get the job into production in a fraction of the time of conventional feeders.
The most problematic component of OEM feeders is the separation and collection of the cover tape. Cover tape feeder jams and cover tape splice problems account for a large percentage of machine stops during production. The Feeder Finger eliminates the cover tape collection process entirely, while providing the machine operator the ability to load strips of cut tape as short as three inches without splicing or using additional strip feeders.
Feeder fingers save costs and improve efficiency on the production floor. With the Feederfinger solution attached to your existing OEM feeders you can save cost and eliminate waste by purchasing near the exact number of components required for each job without the concerns of effectively feeding strips of component tape. Feederfinger also offers a highly efficient way to run prototypes, one-offs and NPI processes.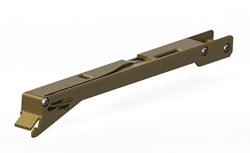 SCIENTIFIC DEVICES AUSTRALIA Stand C12

Narda - SignalShark Signal Analyser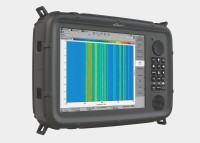 Whether making a wideband measurement of an entire frequency range, detecting hidden signals, reliably capturing very short impulses or localizing interference signals, SignalShark provides comprehensive measurement solutions for the increasingly complex RF spectrum.
Features include a Frequency Range of 9 kHz and 8 GHz, Extremely high Sweep Rate of up to 40 GHz/s, 40 MHz Real-Time instantaneous bandwidth, High Time Resolution Spectrogram, Live Persistence Spectrum to find hidden signals, Full Automatic Direction Finding and a High Dynamic Range (HDR) Receiver.
SignalShark can detect low level signals in the presence of very strong signals by combining high sensitivity with a wide intermodulation-free dynamic range. DANL (preamp. off/on):-162 dBm/Hz / -169 dBm/Hz. The automatic DF antenna enables the SignalShark to determine the direction of a detected signal in less than a second. Two DDCs enables simultaneous measurement and demodulation. The lightest "touch" on a previously set trigger mask is enough for SignalShark to record the corresponding signal. A scan rate of up to 40 GHz/s ensures fast detection for large frequency bands and the 40 MHz real-time measurement enables gapless, reliable detection of the slightest changes in the RF spectrum using the Spectrogram view.
Teledyne LeCroy- Model 510 Digital Oscilloscope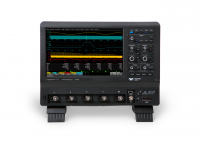 The Teledyne Lecroy WaveSurfer510 Digital Oscilloscope offers 1GHz Bandwidth, 10GS/s Sampling Rate on all 4 Channels and Acquisition Memory of 16Mpt memory per channel. A complete toolbox of features and options to expand its diversity include the most advanced Digital Oscilloscope user interface. MAUI is designed for touch; all important oscilloscope controls are accessed through the intuitive touch screen. MAUI is built for simplicity; time saving shortcuts and intuitive dialogs simplify setup. MAUI is made to solve; deep set of debug and analysis tools help identify problems and find solutions quickly.
Debug complex embedded designs with integrated 18 channel mixed signal capability and quickly locate analogue or digital waveforms for runts, glitches or other anomalies with WaveScan. Features such as LabNotebook - Documentation and Report Generation, History Mode - Waveform Playback, Sequence Mode Segmented Memory, Spectrum Analyzer, Power Analysis and Serial Trigger and Decode which views decoded protocol information on top of physical layer waveforms and trigger on protocol specific messages makes the new WaveSurfer510 a powerhouse for measurement and analytical challenges in a single solution.
JS ELECTRONICS Stand C15
JS Electronics is a flexible printed circuit manufacturer that has consistently delivered high quality flex over 20 years, all our engineers have significant experience in Flex industry.
Whether you are a novice in the area of flex circuit design or long time user we lend our expertise providing comprehensive support from concept to completion.
JS Electronics will have on display three new products in Melbourne.
• SMT / DIP of nearly all components
• Shield flex circuit reduce noise and control impedance of signal lines
• Rigid-flex circuit combine FR-4 area for dense components population interconnected with flexible polyimide which can be bent to accommodate packaging needs.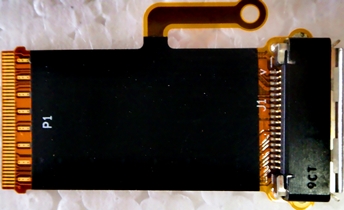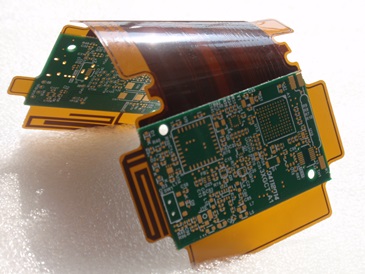 ALFATRON PTY LTD Stand A5
Alfatron Pty Ltd is an Australian owned and operated company providing quality electronic design and manufacturing services. Specialising in fast-turnaround prototypes, small to medium projects, design review, components procurement, manufacture, test and assembly. Alfatron caters to customers requiring full turnkey projects or partial build requirements.
All purchasing, engineering, testing and most importantly manufacturing is performed in-house in our modern facility in Ringwood, Victoria. Alfatron uses the latest technology and equipment to manufacture Printed Circuit Boards assemblies.
Alfatron offers a fast turnaround prototype service which offers many benefits to customers. The technology of the MY500 Jet Printer, removing the need for stencils, improves precision and allows for faster turnaround on prototypes.
With AS/NZS ISO 9001:2008 Accreditation with Lloyd's Register, Alfatron places emphasis on quality at all stages of production – from the very first meeting, parts sourcing to manufacturing, right through to packing and shipping.
When quality matters, Alfatron is the place to go for electronic design, prototyping, and assembly requirements.
QUALIECO CIRCUITS Stand A15

24 Hrs Turnaround – The fastest PCB assembly service launched by QualiEco Circuits
QualiEco Circuits has recently launched 24 hours turn around service for PCB assembly using their in-house facility. Overnight delivery to all major cities of Australia is now possible once PCB, components and stencil is ready for assembly. The company is already offering express turn around for PCB manufacturing from their off-shore plant.
The Team at QualiEco Circuits Pty Ltd is well known for providing excellent quality electronic manufacturing services and solutions.
The company offers express services in all product categories. Their customers have been enjoying excellent quality, low prices and on-time delivery for years. The company has various customised delivery solutions for all customers at affordable prices. Customers can choose from the fastest to semi-fast and normal delivery options based on their budget and urgency.
This vibrant, growing company offers outstanding technical support and attention to detail. Proud of providing reliable services for more than 14 years, QualiEco Circuits is currently a market leader in New Zealand. The company is now enjoying a successful sixth year of operation in Australia.
Complete solution in specialized PCBs - Give wings to your imagination!
Rigid PCBs Flexible PCBs Rigid-Flexible PCBs Metal Core PCB
(Up to 32 layers) (Single and Multilayer) (Single and Multilayer) (Single and Multilayer)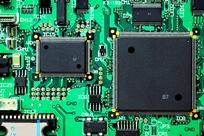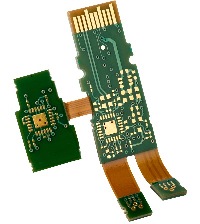 ROHDE & SCHWARZ Stand B30

Rohde & Schwarz introduces industry's first entry-level oscilloscope RTB2000 with 10-bit vertical resolution and touchscreen.
Oscilloscopes are the key tool used by engineers, technicians, hobbyists and students to troubleshoot and test electronics since these instruments enable them to observe and measure electronic signals.
At Electronex 2017, Rohde & Schwarz premieres its new R&S RTB2000 entry-level oscilloscope for education, R&D and manufacturing, displaying functionality previously only available in substantially higher priced oscilloscopes.
Rohde & Schwarz broadens its growing oscilloscope portfolio with the R&S RTB2000, the first low cost oscilloscope to offer touchscreen operation as well as 10-bit vertical resolution, providing R&S quality at an extremely competitive price. The result will surprise users, especially when they see how much capability they can get from a reputable supplier while sticking to their limited budgets.
Power of ten (10-bit ADC, 10 Msample memory and 10.1" touchscreen) combined with smart operating concepts make the R&S®RTB2000 digital oscilloscope the perfect tool for university and laboratories, for troubleshooting embedded designs during development and for production and service departments.
Key Facts:
• 70 MHz to 300 MHz
• 10-bit ADC
• 10 Msample standard memory
• 10.1" capacitive touchscreen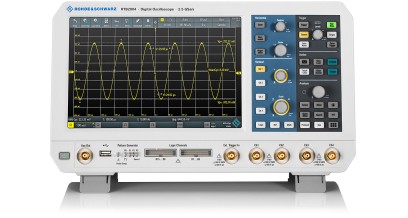 SEMIKRON Stand A27

SEMITRANS® 10 DPD – Up to 2MW
SEMITRANS 10 DPD is a robust standard compatible package with copper baseplate and screw terminals that boosts output performance to 1800A nominal output current thanks to the new Direct Pressed Die (DPD) technology. Excellent switching behaviour that ensures low losses in combination with superior low Rth enables a Tjop below 150°C, while delivering 30% higher output power than with standard solder packages. Semikron's unique DPD bus bar concept allows the single AC terminal concept to be maintained, enabling straightforward upgrades from existing stack designs.
The new DPD-based package is designed for a broad range of applications such as wind and solar power, industrial drives and traction applications, all of which require a long service life and robustness, while maintaining flexibility and scaling capabilities.
The SEMITRANS 10 DPD is available in 1700V / 1800A half-bridge topology in an industrial standard package.
SEMIX 6 – the complete press-fit standard
SEMiX 6 features the state-of-the-art press-fit pin technology for the power and auxiliary terminals. Employing solder-free mounting technology, the 17-mm-high SEMiX product family is designed to maximize the efficiency of our customers' mounting processes. The SEMiX 6 features the connection of all the terminals in a single production step and completes the SEMIKRON commodity product portfolio.
SEMiX 6 will be available as a rectifier module for up to 2200V. These modules will mark the launch of our new SKR PEP rectifier technology for leading edge power density and environmental robustness. With junction temperatures of up to 175°C, this technology delivers far superior performance than comparable solutions on the market. This improved performance combined with our design for minimum power losses is ideal when it comes to achieving compact inverter systems on a single PCB basis.
The rectifier portfolio is the perfect match for the IGBT 6-packs in the same module package, equipped with the latest IGBT chip technology in 650V, 1200V and 1700V.
This tried and tested package features a robust baseplate solution combined with a full press-fit concept for all the electric terminals, creating a competitive platform for all-in-one PCB inverter solutions. The package is suitable for a broad range of applications:
• AC inverter drives
• UPS systems
• Renewable energy systems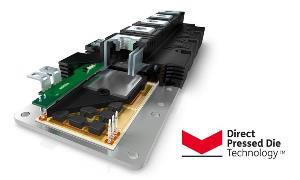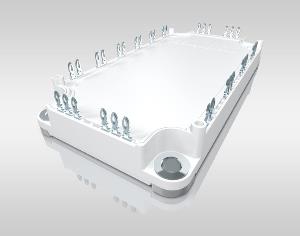 TECH RENTALS Stand C5

Keysight N6702A Low-Profile Modular Power System
The Keysight N6702A modular power system is the ideal solution when it comes to Automatic Test Equipment (ATE) systems in research and development, design validation, and manufacturing. This portable power supply unit is an essential component of every test system within industries including aerospace, defense, consumer electronics, computers, communications, semiconductor, and automotive electronics.
Most ATE systems are generally very complex and require multiple power sources. The N6702A comes standard with built-in measurement of voltage and current to simplify the design of an ATE system. This 4-slot modular power system will accept from 1 to 4 N6700 series DC power modules in any combination, allowing you to mix and match power and performance levels.
This product is a 1200 W, 1 U (rack unit) high, multiple-output programmable DC power supply system. It enables test system integrators to optimise performance, power, and cost effective testing. Select from over 20 different DC power modules, ranging from 20 - 300 W and with basic to high precision capabilities. This instrument offers fast command processing time, LXI Class C compliance, and GPIB, LAN, and USB interfaces standard.

VGL ALLIED CONNECTORS Stand B2

PCB Mount Circular Connectors
VGL – Allied Connectors has introduced custom designed miniature circular connectors, which incorporate a range of insert profiles to accommodate PCB tails. These connectors offer a flexible design with PCB tails manufactured at custom lengths. This provides an ideal solution for applications requiring PCB boards to be mounted directly onto a ruggedized connector, offering a compact and high-density solution.
These connectors are manufactured to Mil-DTL-26482, Mil-DTL-5015 and Mil-DTL-D38999 specifications with jam-nut and square flange shell styles. The shell material is offered in aluminium, stainless steel and nickel-aluminium bronze, in addition to conductive and non-conductive plating finishes with ROHS compliance.
Connector insert configurations are available from 2 to 128 pins with 16, 20 & 22D gauge contacts. For square flange connector shell styles, hermetic glass to metal sealing is available in 27 insert layouts.
CONGATEC Stand A1

congatec introduces new Thin Mini-ITX and Pico-ITX boards with Intel's next generation of low-power processors (codename Apollo Lake)
congatec introduces the new conga-PA5 Pico-ITX single board computer (SBC) and the conga-IA5 Thin Mini-ITX motherboard, two industrial-grade, long-term available computing platforms featuring the latest Intel® Atom™, Celeron® and Pentium® processors (Codename Apollo Lake). System engineers can immediately deploy them to upgrade existing Pico-ITX and Mini-ITX designs and benefit from approximately 30% more processing power and 45% more graphics performance compared to the previous generations. With improved performance per watt, they unleash more performance at a given thermal envelope or improve energy consumption and battery life for given performance requirements. Application areas for these new boards are numerous and range from small sized handheld devices, box PCs and IoT gateways to industrial-grade Thin Clients, slim HMIs and low-power GUIs. Markets can be found in smart homes and smart cities, digital signage and retail, medical technology, gaming and industrial automation, as well as in shop floor and logistic systems.
The new conga-PA5 Pico-ITX SBCs and conga-IA5 Mini-ITX motherboards feature impressive security enhancements, improved real-time computing capabilities as well as the ability to keep the embedded systems of IoT devices in sync.
congatec boosts module-based high-end embedded computing
congatec extends its COM Express Basic portfolio with the new high-performance conga-TS175 Computer-on-Module. Equipped with the high-end dual chip versions of the brand new Intel® Xeon® and Gen 7 Intel® Core™ processors (codename Kaby Lake), it sets a new benchmark for module-based high-end embedded computers and modular industrial workstations that need to process massive workloads.
Application areas for these high-end COM Express Type 6 Server-on-Modules can be found everywhere where data intensive streams need to be processed and displayed in real time. Target markets include big data processing embedded clouds, edge and fog servers, medical imaging systems, video surveillance and vision-based quality control, simulation equipment, host systems for virtualized control technology, vision systems in industrial control rooms and other plant-wide supervision systems or high-end professional gaming and digital signage.
In regards to visual experience, the modules feature the new Intel® HD630 graphics supporting up to three independent displays with up to 4k @ 60 Hz via DisplayPort 1.4 and HDMI 2.0 – both with HDCP 2.2, and eDP 1.4 support. Additionally, they also offer dual channel LVDS and VGA for legacy displays.
congatec's new modules are simply better
The new conga-TC175 Computer-on-Modules (COMs) with Intel's Skylake successor –the second variant of the current 14nm microarchitecture – are simply better than their predecessors. Compelling features include greater CPU performance, more dynamic HDR graphics thanks to 10-bit video codec, and support of the optional, super-fast 3D Xpoint-based Intel® Optane™ memory.
The Intel® Optane™ memory is based on 3D XPoint technology. Compared to NAND SSDs, it offers significantly lower latency yet is capable of handling the same size of data packets. With a latency of just 10 µs – about a thousand times lower than that of standard HDDs – the boundaries between main memory and storage are becoming fluent.
The conga-TC175 COM Express Compact modules are equipped with 15 Watt dual-core variants of Gen 7 Intel® Core™ SoC processors. Specifically, these are the 2.8 GHz Intel® Core™ i7 7600U, the 2.6 GHz Intel® Core™ i5 7300U and the 2.4 GHz Intel® Core™ i3 7100U processors as well as the Intel® Celeron® 3695U processor with 2.2 GHz. The TDP of all variants is configurable from 7.5 to15 Watts, which makes it easier to adapt the application to the energy concept of the system.
congatec further standardizes interface setup for SMARC 2.0
congatec introduces new SMARC 2.0 modules supporting powerful USB C connectivity. The utilization of the USB-C specification makes USB interconnects even more universally applicable, further standardizing the interface setup of SMARC 2.0 based embedded devices. System designers can use USB C for standard peripherals from USB 3.1 to USB 1.0 and – a brand new option – for connecting displays or even the power supply to the system or peripheral devices, reducing cabling efforts to a single cable. In addition, the current data throughput of up to 5 Gigabit/s in line with the USB 3.1 specification serves as a turbo charger for data intensive applications. Based on Intel® Atom™, Celeron® or Pentium® processors (codename Apollo Lake), typical applications for SMARC 2.0 designs are handhelds and other mobile devices, in-vehicle devices and stationary embedded and IoT systems with low power and high performance demands.
The comprehensive USB-C functionalities include USB 2.0, USB 3.1 Gen 1 support with data rates of up to 5 Gigabit/s and the alternate modes for Display Port 1.2 (DP-Alt) and USB Power Delivery (USB-PD) supporting a power envelope of up to 100W.
congatec's Type 7 Server-on-Modules are now PICMG standard
The revision 3.0 of the specification formally integrates the new Type 7 pinout type which is the basis for congatec's Server-on-Modules. The official release fires the starting shot for the race to a new generation of server designs based on standardized Server-on-Modules. These products enable the most cost efficient server designs and performance upgrades across all existing and upcoming generations of server class processors and sockets from any vendor. Modular server designs can be started instantly as modules, carrier boards, starter kits, design guides and circuit schematics are readily available.
Server-on-Modules are also an excellent fit for all the various embedded and IoT server designs in harsh industrial environments where space is restricted and dedicated high-bandwidth interfaces are essential to connect the various controls in the industry 4.0 fields. congatec's recent Server-on-Modules (conga-B7XD) offer server-grade performance and functionality with their Intel® Xeon® D processors, 2x 10 GbE and 32 PCIe lanes. The latter can be used for powerful intra-system expansions such as GPGUs and NVMe based ultra-fast storage devices as well as multi-module configurations on one single carrier board for High Performance Computing designs.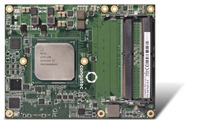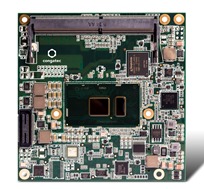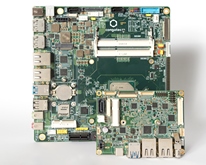 ELEMENT14 Stand C17

Pi Desktop
Pi Desktop is a set of Pi accessories which can convert Raspberry Pi 1/2/3 to a real computer, the accessories include a cap board, and an attractive box, the user can plug the cap board into the 40-pin I/O connector of Pi, install a high capacity Solid State Drive (SSD) on the cap board, and put Pi and cap board into a box. It becomes a real computer which has all of features of PC, such as Ethernet, WiFi, Bluetooth, Harddisk, Real Time Clock. Users can link the Pi Desktop to a display through HDMI interface.
Key Features:
Intelligent and safe power controller - Users don't have to remove the power adapter from Pi board, they just simply push a bottom to turn the power on or off like a desktop or laptop
SSD expansion- It allows users to install a mSATA SSD (up to 1TB) onto the Raspberry Pi.
RTC - Real Time Clock will provide independent time for any application on the Pi.
A Heat Sink- It will cool down CPU of Pi.
A beautiful enclosure - Protect Pi Board and convert a PCBA into a real electronics product.

GPC ELECTRONICS Stand B5

GPC Electronics is one of the largest electronics contract manufacturers in Australasia.
GPC's business model centres on providing manufacturing solutions at low overall cost and risk. Our focus is on making customers more competitive by managing complex business issues. We draw on the advantages of having our own factories in Australia, New Zealand and China, to create competitiveness for customers. This allows us to offer an outsourcing model that is difficult to replicate elsewhere.
We are experts at the introduction, manufacture, and support of complex mid-to-high volume, and high mix products. Our capabilities and expertise include supply chain management, product development, project management, SMT assembly, box-build, full turnkey assembly, customisation, test, materials procurement and logistics.
GPC continues to invest in new equipment and technologies. We have recently installed new surface mount lines in our factories in Australia and China, and automated optical inspection systems in our Australian, NZ and China facilities.
HAMMOND ELECTRONICS Stand A30

Pole kits extend enclosure mounting options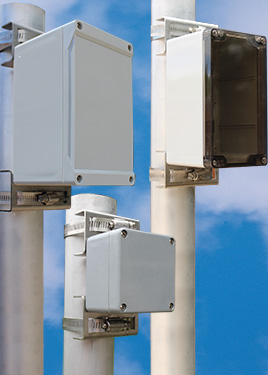 Sealed enclosures are designed for indoor or outdoor installation, and they will normally have holes positioned outside the sealed area to enable the enclosure to be attached directly to flat surfaces without compromising the environmental protection. In response to the need for small electronic monitoring and control systems to be installed in an increasingly wide variety of locations, Hammond Electronics has introduced an initial five sizes of Pole Mounting Kit, which enable three sealed enclosure families to be attached to round, square or rectangular poles with diameters from 38 to 381 mm. The corrosion resistant stainless steel kits reduce installation time and secure the enclosure against twisting once installed.
The initial range of kits are sized to fit the 1554/1555 IP67 ABS and polycarbonate range, the 1590Z IP66 heavy duty die-cast aluminium family and the 1590ZGRP IP65 glass reinforced polyester range. The kits enable a total of 93 different sizes and styles across the three families to be pole mounted. Each kit consists of two brackets, two clamps and mounting hardware, all in stainless steel.
Hammond is one of the world's leading manufacturers of small plastic, die-cast aluminium and metal enclosures for the electronics and electrical industries. Hammond Electronics, Adelaide, was established as a stock-holding hub in 2002 to serve the Australasian market through a network of national, regional and local distributors throughout Australia and New Zealand.
HETECH Stand C23

Value add with HETECH and upgrade to loT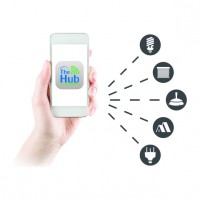 Hetech is proud to be your product development and manufacturing partner of choice.
We are pleased to announce that in conjunction with our Sister Company Techome (www.techome.com.au) we can successfully upgrade and enhance your existing product capabilities to easily interface with WIFI or Bluetooth via the free "TECHOME HUB" app.
Easily downloadable on Google Play or Apple Store, just look for 'THE HUB" and start your journey with us. One such Customer who did just that is EVOLUTION Pool and Spa. They are now enjoying success as one of the first pool companies to offer Bluetooth capabilities within their existing product platform. They are very excited about all the interest they are getting and are looking to grow their market share considerably by giving them an edge in this very competitive industry.
Other products we will showcase are TecHome's Bluetooth outdoor power points now sold throughout Australia.
Let us take you to your window of the world and give you a broader perspective of the world's technological advances.
Come and visit us on STAND C23 so we can assess your product on the spot, and give you free advice on how your product can be given a 21st century lease of life with new and exciting connectivity options.
HK WENTWORTH/ELECTROLUBE Stand B12
Electrolube, the established global manufacturer of electro-chemicals, will showcase some specialist encapsulation resin systems and thermal management materials for Australia's LED manufacturers at this year's Electronex. Visitors are welcome to visit their stand B15 for advice on their specific applications.
Electrolube's new innovations meet the ever increasing demands of the rapidly growing LED market, to fully maximise LED performance and lifetime, and ensure the desired results for heat dissipation are achieved. New products on show will include ER2224, which provides high thermal conductivity and excellent thermal cycling performance, making it ideal for use in LED lighting units where it helps to promote heat dissipation and prolong unit service life. The thermally conductive epoxy resin system offers an improved method of cure and subsequent health and safety benefits for the user.
The tough new UR5638 polyurethane resin provides a clear, transparent finish and is a low exotherm resin, making it ideal for LED applications involving the encapsulation of larger LED lighting units. As an aliphatic polymer, the resin also offers superior UV stability as well as excellent transmission of visible light, making it an excellent resin for white light LEDs.
UR5639 has been designed to encapsulate a variety of electrical components, but is particularly suited to LEDs. UR5639 is a clear/transparent polyurethane resin featuring low exotherm, low viscosity, low hardness and high flexibility. The level of flexibility achieved by the cured resin means that the connecting legs of components are not placed under high levels of stress during the cure.
Electrolube will also launch two new silicone-free thermally conductive phase change materials. TPM350 provides low thermal resistance, excellent reliability and is exceptionally easy to apply. The material is similar to grease but the consistency eliminates pump-out and is also dry to the touch, which is particularly useful for pre-apply applications. The TPM550 material features high thermal conductivity of 5.5 W/m.K and becomes workable at approximately 45°C. Its advanced formulation ensures minimal contact thermal resistance and flow is completely contained to defined interfaces due to its thixotropic characteristics.
Electrolube's new brochure for LED solutions, including additional test data, can be accessed online at http://www.electrolube.com/pdf/electro_led_industry_brochure.pdf
Electrolube, a division of H.K. Wentworth Limited, is a leading manufacturer of specialist chemicals for electronics, automotive and industrial manufacturing. Core product groups include conformal coatings, contact lubricants, thermal management materials, cleaning solutions, encapsulation resins and maintenance and service aids.
The extensive range of electro-chemicals at Electrolube enables the company to offer a 'complete solution' to leading manufacturers of electronic, industrial and domestic devices, at all levels of the production process. Through collaboration and research, the company is continually developing new and environmentally friendly products for customers around the world and their commitment to developing 'greener' products has been endorsed by the ISO 14001 standard for the highly efficient Environmental Management System in place at the company.
Electrolube is represented in over 55 countries with an established network of subsidiaries and distributors. By offering genuine security of scale and a reliable supply chain, the company is able to deliver a truly tailored service.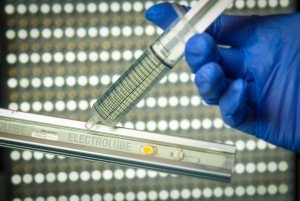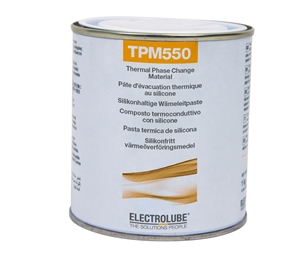 EMONA INSTRUMENTS Stand A23
Rigol 1GHz DSOs Demonstrated at Electronex
The Rigol DS6000A are an affordable range of 1Ghz and 600Mhz bandwidth oscilloscopes with 2 and 4 channel models. High speed 5GS/s digitisers and extremely long record length of 140M pts is standard across the range. Features include update rates of 120,0000 waveforms per second, 256 level intensity graduated display, advanced triggers including serial bus trigger and decode and optional battery operation. Three year warranty is standard across the range.
Emona offers a complete range of test and measuring instruments including oscilloscopes, function generators and counters, data acquisition, multimeters, power supplies, thermal imaging cameras and a range of products to support manufacturers including hipot and production testers and harness and cable testers.
Fluke Calibration Products Displayed by Emona
Fluke Calibration, the global leader in precision calibration instrumentation, will be displayed at Electronex 2017 by Emona Instruments at Stand A23.
Fluke Calibration range covers electrical, RF, temperature, pressure, and flow measurements. Fluke Calibration products are found in calibration facilities around the world, including National Metrology Institutes, that demand the highest levels of performance and reliability, backed by state of the art metrology and uncompromising support. They are relied on by quality engineers, calibration technicians, and metrologists to instill confidence in the measurements that are critical to their organisations for quality, safety, reliability and cost.
A new product highlight is the 5730A mulrtifunction calibrator. The 5730A is regarded as the "gold standard" in multifunction electrical calibration. The 5730A calibrates a wide range of digital multimeters, up to long-scale 8.5 digit DMMs, as well as RF voltmeters when equipped with the wideband option. This new model also features improved specifications that will help you increase test uncertainty ratios (TURs) and increase test confidence. What's more, the improved specifications will reduce your need to guardband, giving you confidence and peace of mind in your calibrations.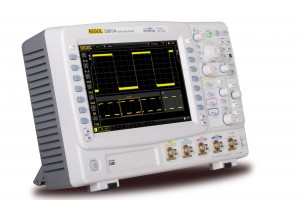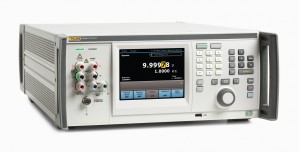 3D Print Strong Carbon Fibre Electronics - Enclosures, Brackets and Mounts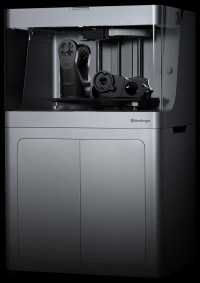 When standard ABS and PLA 3D printed parts are not strong enough or lack the refined finish of an end user part, the Markforged range of 3D printers, represented by Emona Instruments and on display at Electronex will print high strength carbon fibre parts with the strength of metal for your end use products, prototypes, enclosures, brackets and mounts.
Carbon fibre 3D printing technologies offer advantages over traditional manufacturing techniques like CNC machining and modular fixturing, by printing parts in carbon fibre that are equal to or better in strength than aluminium. Carbon fibre also offers an alternative to injection molding of low volume or even one-off jobs by providing a strong, smooth and impressive matte black finish with the look of an end user part.
Markforged's carbon fibre reinforced and chopped micro carbon fibre materials are used in the Mark Two and Mark X range of 3D printers. The Mark Two offers a 320mm x 132mm x 154mm build size and the Mark X offers an industrial scale 330mm x 250mm x 200mm build size. In addition to a large print volume, the Mark X introduces a set of breakthrough print capabilities that include in-process laser inspection as well as a fine (50 micron) surface finish to make this one of the most powerful, precise, and unique 3D printers on the market today.
ANRITSU Stand B1

Anritsu Ultraportable Spectrum Analyser up to 110 GHz
Anritsu revolutionizes the test market with the introduction of the Spectrum Master™ MS2760A family, the world's first ultraportable, millimeter wave (mmWave) spectrum analyzers that operate up to 110 GHz. They can verify high-frequency designs, including those used in 5G and E-band applications. Leveraging Anritsu's patented state-of-the-art NLTL Shockline technology, the MS2760A shatters the cost, size, and performance barriers associated with traditional large form factor instruments to more efficiently advance technology development. In addition to 5G and E-band, the MS2760A significantly improves test procedures and lowers the cost-of-test in other fast-growing mmWave applications, such as 802.11ad/WiGig, satellite communications, electronic warfare, and automotive radar.
The MS2760A is truly pocket sized, but big on performance with industry leading dynamic range, sweep speed, and amplitude accuracy. Its ultraportable size enables direct connect to almost any DUT, eliminating the need for lossy, expensive cables or antennas.
The MS2760A is available in 6 versions with frequencies ranging from 9 kHz up to 32, 44, 50, 70, 90, and 110 GHz. It measures only 155mm high x 84mm wide x 27mm deep.
In the lab, on the manufacturing floor, or out in the field, no other instrument can match the price, performance and size of the MS2760A. It provides benchtop level spectrum analyser performance in the palm of your hand. Anyone making basic spectrum measurements can benefit from the size and affordability.
Anritsu Launches Low-Cost, High-Performance Signal Analyzer Solution for 5G and Wideband Signal Measurement
Anritsu is pleased to announce the release of its high-performance Signal Analyzer MS2850A targeting development and commercial production of 5G mobile communications systems. The MS2850A, the first mid-range Signal Analyzer to offer 1 GHz analysis bandwidth and supports the evaluation of 5G multi-carrier signals. Installing the 5G measurement software packages leverages the MS2850A's high dynamic range and excellent flatness performance to cut measurement times using all-at-once, high-accuracy measurements of a typical 800 MHz modulation bandwidth to be used in 5G (e.g. eight 100 MHz bandwidth carriers).
The Signal Analyzer MS2850A supports Transmitter performance tests for wireless communications equipment during development and manufacturing; the 32 GHz and 44.5 GHz measurement frequency models have an analysis bandwidth of 255 MHz as standard, which can be extended as an option up to 1 GHz. Noise Figure (NF) and Phase Noise measurement functions can also be installed in both models.
The 5G measurement software packages in the MS2850A supports measurement of 5G uplink and downlink signal frequency error, power, EVM, etc., using CP-OFDM modulation. Additionally, downlink measurements evaluate multi-carriers all at once.
Not only does the MS2850A support all previous cellular technologies such as, LTE, W-CDMA, TD-SCDMA, and GSM, it also offers futureproof support for the new 5G NR standards now being defined by 3GPP.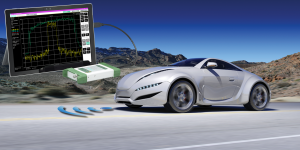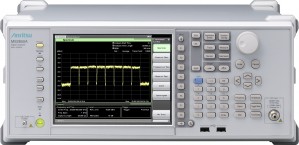 ERNTEC Stand B6

ERNTEC Engineered Enclosure Solutions
ERNTEC offers both standard enclosures and engineered solutions for your application.
Engineered solutions:
Modify an existing enclosure (one from our extensive range, or bring your own)
Design & manufacture a metal housing from scratch,
Tool a bespoke metal or plastic enclosure
These solutions focus on resolving common issues such as:
Ease of Installation/Usage - Tell us what you are trying to achieve, its likely we already have a solution.
Environmental Requirements - We have experience with designs to suit many environments, including Earthing, EMI/RFI, IP rating, Thermal Dissipation, Shock & Vibration and Corrosion Protection.
Finish and Appearance - We know this is important to our clients. It's important to us too. We start with a clear understanding of the requirement and workmanship needed to control finish quality. ERNTEC has in-house paint facilities & a full colour digital printer suitable for durable labelling on Metal & Plastic.
Adherence to Standards – IP, AS, Mil-Spec, Safety, Labelling, Documentation assistance.
Packing & Delivery of final product - We can advise and assist with special packaging for safe transit. Examples include reusable cardboard boxes, pallets and crates, impact resistant solutions.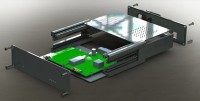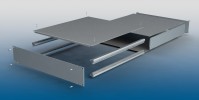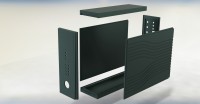 PEEL INSTRUMENTS/FIGARO GAS SENSORS Stand C38

Peel Electronics Pty Ltd (and Trading Name Gas Sensors Australia) is a local Australian Designer of specialised Electronics, and an authorised distributor/technical source for Figaro Gas Sensors of Japan.
Peel Electronics is a local Australian Manufacturer of specialised Electronics. Utilising a State of the art, high quality made Surface Mount Machine to manufacture its products.
We Design and engineer our products locally. We have designed and made some of the most reliable products in the LPG Automotive industry, and currently supply locally in Australia, to the US market.
Our company has the ability to:
Provide Technical assistance in the development, engineering and design phase.
Assist with Prototyping for development of engineers schematics
Provide Technical assistance in Gas Sensor technology and specific sensors required according to Target Gas
Peel Electronics has experience in Figaro Gas Sensor technology and can provide technical assistance, from Peel or through direct contact with Figaro Engineering if required.
Consultancy and also training in areas of the project, with regards to PCB Circuit Design (Gerber files etc), PCB Layout, component suitablity ratings and also circuit rating.
KEYSIGHT TECHNOLOGIES Stand A12
NEW Ultra-Low Cost Oscilloscope Series
Highlights:
Ideal for students and new scope users
Includes an educator's resource kit with built-in training signals and comes standard with a comprehensive oscilloscope lab guide at no additional cost
6-in-1 instrument integration including a Keysight feature – built-in frequency response analyser with Bode plotting
Keysight Technologies has announced the InfiniiVision 1000 X-Series oscilloscopes. This new low-cost oscilloscope series, with a starting price of AUD$637, has 50 to 100 MHz models.
The 1000 X-Series uses Keysight's MegaZoom IV custom ASIC technology, which enables a high 50,000 waveforms per second update rate. This makes it easier to see random and infrequent glitches and anomalies. The 1000 X-Series also has a high sampling rate of up to 2 GSa/s and comes standard with two probes. The oscilloscopes use segmented memory capability to maximize memory depth while helping the scope test faster.
In addition to being an oscilloscope, the 1000 X-Series is also a serial protocol analyser, digital voltmeter and frequency counter—and the EDUX1002G and DSOX1102G models include a frequency response analyser and WaveGen function generator.
The 1000 X-Series supports decoding and analysis of a wide range of popular embedded and automotive serial bus applications, which include I2C, SPI, UART/RS232, CAN and LIN.
Information about the InfiniiVision 1000 X-Series oscilloscopes is available at www.keysight.com/find/1000X-Seriesinfo.
Special Offer:
Score 2 Scopes for the Price of 1
Receive a complimentary InfiniiVision DSOX1102G* 100 MHz Oscilloscope when you buy a qualifying InfiniiVision Oscilloscope. Promotion Code: 6.012
* NEW oscilloscope which was launched this year.
Keysight InfiniiVision Oscilloscopes come with:
fast waveform update
6 instruments in 1; oscilloscope, frequency response analyser, function generator, DVM, counter, and protocol analyser
With every purchase of a qualifying product you will receive a complimentary InfiniiVision DSOX1102G* 2 channel 100 MHz oscilloscope with a WaveGen function generator.
Qualifying Keysight products include:
3000T X-Series Oscilloscope
4000 X-Series Oscilloscope
6000 X Series Oscilloscope
Take advantage of this offer
Special offer No. 2:
Buy Any Keysight Big5 Bench Instrument, Get A Complimentary Handheld!
When you purchase any Keysight Big5 Bench instrument, you are eligible to receive the Keysight U1242C handheld DMM at no cost.
Qualifying Big5 Bench instruments:

| | |
| --- | --- |
| Big5 Bench 1: | N6700 Series low-profile modular power system mainframes and DC power analyzers |
| Big5 Bench 2: | E36100 & E36300 Series DC power supplies |
| Big5 Bench 3: | 34970 Series DAQ/data logger switch units |
| Big5 Bench 4: | 33600A Series Trueform waveform generators |
| Big5 Bench 5: | B2900 Series family including: precision source measure units, ultra low-noise power sources, femto/picoammeters and electrometer/high resistance meters |
Take advantage of this offer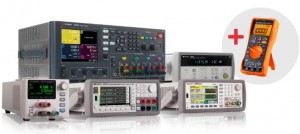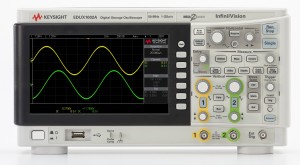 LEACH-PCBA Stand D20
LEACH is a high-tech enterprise located in Shenzhen China who has 30000 feet of modern manufacturing plant, with more than 18 years of experience in serving customers around the world with electronics contract manufacturing service.
One-stop EMS since 1999
LEACH provides turn-key electronics contract manufacturing service: R&D, Supply chain management, SMT&TH assembly, Manual & AOI Testing, IC Programming, Function Test, Cable or Mechanical Assembly, Transport and Logistic service.
Advanced facilities
LEACH is equipped with fully automatic printing machines, automatic high-speed SMT machines, full automatic multifunction mounters, reflow soldering ovens, automatic preheat and other advanced processing equipment for electronic products.
RoHS / ISO Standard
LEACH strictly complies with international standards for the production of products in line with RoHS standards.
In quality control, LEACH is ISO9001:2008 and ISO13485 accredited.
Global Services
LEACH customers spread widely all over the world such as Canada, USA, Europe, Australia, South America, Southeast Asia and the Middle East.
We are always ready to serve you and look forward to cooperating with you.
LEACH is more than just PCB Assembly. With 18 years of know-how in electronics turnkey manufacturing, we assist our customers to solve potential problems from designing stage, components global purchasing, to manufacturing and finally logistics. We care the quality control as much as the competitive price.
Specifically LEACH is experienced in EMS for complex circuit boards used in industrial control, telecommunication, energy, medical instruments, and more.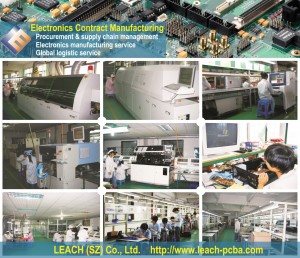 MEKTRONICS Stand B18

The Fluke 729 Automatic Pressure Calibrator has been designed specifically with process technicians in mind to simplify the pressure calibration process and provide faster, more accurate test results. Technicians know that calibrating pressure can be a time-consuming task, but the 729 makes it easier than ever with an internal electric pump that provides automatic pressure generation and regulation in an in an easy-to-use, rugged, portable package.
The ideal portable pressure calibrator, the 729 allows you to simply type in a target pressure, and the calibrator will automatically pump to the desired set-point. Then, internal fine adjustment control automatically stabilises the pressure at the requested value. The Fluke 729 can also automatically test multiple pressure test points and automatically document the results. Calibration is as easy as typing in the starting and ending pressure and the number of test points and tolerance level. The 729 does the rest.
Built-in HART communication capabilities enable HART transmitter mA adjustments, light HART configuration and the ability to adjust to applied 0 % and 100 % values. Upload and manage documented calibration results with DPCTrack2™ Calibration Management Software, making it easy to manage your instrumentation, create scheduled tests and reports, and manage calibration data. With three ranges to choose from, 30 psi (2 bar, 200 kPa), 150 psi (10 bar, 1 MPa) and 300 psi (20 bar, 2 MPa), Fluke 729 Automatic Pressure Calibrators are designed to perform when and where you need them.
Introducing the NEW- CV-5200 Connection Validation™Soldering Station
Metcal is raising the bar with a technology that will change hand soldering forever.
Metcal soldering stations have led the way with SmartHeat® technology for 35 years. SmartHeat senses the thermal load and instantly delivers Power on Demand directly to the joint. The embedded, self-regulating heater delivers the right amount of power based on the requirements of the solder joint. This provides a fast, safe and repeatable process with no calibration required.
Currently, the industry standard relies on a visual inspection of the solder joint. Metcal has developed a better way… Introducing Connection Validation.
The intermetallic compound thickness is critical in the formation of a solder joint. Connection Validation (CV) evaluates the quality of the solder joint by calculating the intermetallic compound formation and provides closed loop feedback to the operator.
CV provides feedback to the operator via the LED light ring integrated in the hand-piece. It takes the risk associated with the variables involved in the soldering activity and removes the success and failure determination of a good solder joint out of the hands of the operator.
CV compliments the skill of the operator to judge the quality of a solder joint by introducing an objective method of evaluating solder joint quality. This systemic and objective approach provides repeatability and a measureable standard to the soldering process.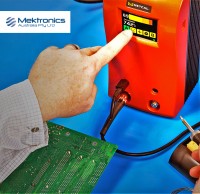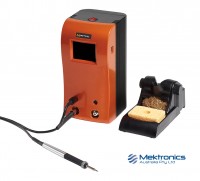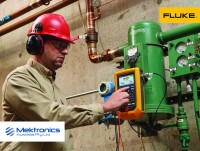 MORNSUN Stand B14

Lower Power AC/DC Converter – Perfect for IOT applications
MORNSUN offers a range of single in line low power AC/DC Converters LS series that are perfect for IOT, smart devices and building automation applications.
The series provides a range of 1W, 3W and 5W single output and feature an input range of 85 - 264V AC (70 - 400V DC) with 3000VAC isolation and an operating temperature range of -40 to +85°C with efficiency of up to 80%. In addition to the standard version there are converters with an extended input voltage range of 90 – 528V AC (100 – 745V DC). Single output voltages of 3.3V, 5V, 9V, 12V, 15V, 24V are available. Output ripple & noise (20Mhz bandwidth) is typically 50mV peak to peak. The output features self-recovering continuous short circuit and over-voltage protection.
The compact design of these AC/DC Converters with their ease of application and excellent specification makes them suitable for all applications where low power AC/DC voltage conversion is required. These applications include but are not limited to IOT devices, smart home control, industrial instruments, utility monitoring and consumer electronics. These converters offer a cost effective solution from a worldwide manufacturer with the best lead times in the industry.
Mornsun products are distributed in ANZ by DLPC Pty Ltd & in Victoria by Fairmont Marketing.
MORNSUN CAN Transceiver Modules TD_MCANFD Save 60% Space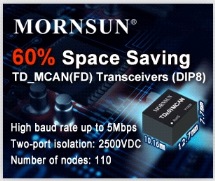 With rapid development of intelligent electronics, CAN bus gets troubles of load limitation. MORNSUN TD3(5)01MCANFD series further promote data transmission rate to 5Mbit/s with isolation of 2500VDC. The two series come in a same package and both are pin-compatible, which make them convenient for customers to choose according to system's communication protocol. They are suitable for automotive electronics, instrumentation, etc.
Features:
Meet ISO 11898-2standard/ISO 11898-5 physical layer standard
Isolation: 2500VDC ( input and output terminal are mutually isolated)
Bus timeout protection
Baud rate high up to 5Mbps (TD-MCANFD) / 1Mbps (TD-MCAN)
Operating temperature: -40℃ to +105℃
Suitable for 12V, 24V system
Compact size, standard DIP8 package
Other cost-effective CAN bus transceiver modules are TD301MCAN and TD501MCAN series, which integrate power isolation, signal isolation, CAN transceiver and bus protection in one module, feature 60% space saving .
Mornsun products are distributed in ANZ by DLPC Pty Ltd & in Victoria by Fairmont Marketing.
NATIONAL INSTRUMENTS Stand B10

Overcome the Most Demanding RF Test Applications with NI 2nd Generation VST
Experience the flexibility of a software defined radio architecture and RF instrument class performance in the second-generation Vector Signal Transceiver. With the combination of a RF signal generator, RF signal analyzer and user programmable FPGA, all into a single 2-slot PXI Express module, you can be sure to stay ahead of complex and rapidly changing wireless technologies with the most innovative RF test, measurement and prototyping solution in the market.
1 GHz of instantaneous bandwidth for advanced digital pre-distortion (DPD) test and wideband signals such as radar, LTE-Advanced Pro and 5G
Measurement accuracy that enables systems to measure 802.11ac Error Vector Magnitude (EVM) performance of -50 dB
Measurement speeds up to 10X faster than traditional instrumentation using FPGA-based measurement acceleration and highly optimized measurement software
Small size and tight synchronization allowing for up to 8x8 multiple input, multiple output (MIMO) configuration in a single 18-slot chassis
DAQExpress is our newest DAQ companion software
Its features will help reduce the time our customers spend setting up their system and analyzing collected data.
On average, engineers and technicians spend about 86% of their time preparing their application. This includes setting up, configuring, and testing hardware as well as writing software. Only about 14% of their time is spent processing, analyzing, and managing data. DAQExpress can help these customers by reducing their preparation time, giving them more time for important decision making.
Measurement panels provide an easy and interactive way for users to acquire and record measurement data.
Users can record and capture data directly from the measurement panel. This data can be viewed within the environment or exported.
DAQExpress also provides several interactive analysis panels to apply common algorithms, no programming required.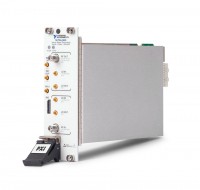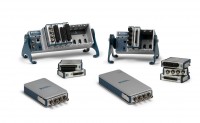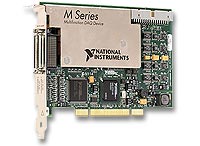 ONBOARD SOLUTIONS Stand B29

ONBoard Solutions is proud to introduce a new FAI to the Australian/NZ market from ExtraEye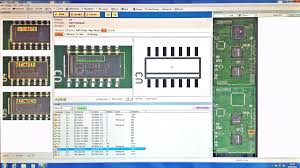 Do more, faster
Create a new inspection program in less than a minute
Automatically locate boards in a multi-board panel in seconds
Locate and inspect multiple identical components with a single click
Automatically and instantly compare entire boards to the golden board
Do more, easier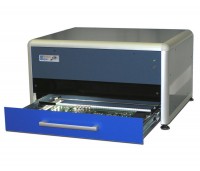 Automate inspection, even for first boards
Easily view even the smallest components, with automatic rotation and zoom
Quickly and accurately inspect components added after SMT assembly
Generate detailed documentation of every inspection
Who needs automated FAI?
Any company that assembles PCBs can gain real, bankable value from automated first article inspection. As one of the most critical steps in PCB assembly setup, FAI can stop a single small mistake from ruining an entire production run.
Extra Eye's automated First Optical Inspection process is significantly more accurate and faster than manual inspection. With setup in minutes and easy operation, Extra-Eye FAI provides a cost-effective alternative to automatic optical inspection (AOI) for low-volume series.
ONBoard Solutions is proud to introduce a the new Condenso XC Batch Vacuum Reflow System to the Australian/NZ market Rehm Thermal Systems
Unique technology benefits: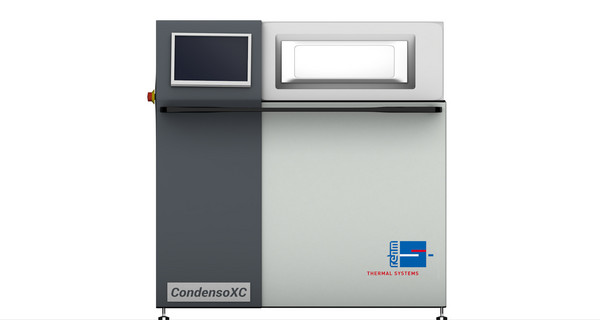 Perfluorpolyether Injection volume control principle
A defined quantity of fluid (usually perfluorpolyether) is vaporized during operation in the process chamber, which is hermetically sealed by means of a bulkhead. The vapor allows for extremely effective heat transfer to the PCBs due to the release of heat during condensation. The temperature of the medium remains constant. In addition to this, the medium's boiling point limits the maximum soldering temperature so that the PCBs cannot be damaged due to overheating. This, as well as the ability to control the volume of injected liquid and intermediate exhaust of the vapor, also makes it possible to precisely adjust the temperature/reflow profile of the PCB. Flawlessly reproducible soldering results are thus guaranteed, which increases process stability
Controllable vacuum process – Pre-vacuum stages and vacuum after soldering possible
Manual loading from frontside
No Product movement during soldering
No Galden® loss, active Galden® filtering
Perfect for high technology, large thermal mass difficult soldering applications
ONBoard Solutions is proud to introduce a the latest version of the REHM VXC Convection Reflow Systems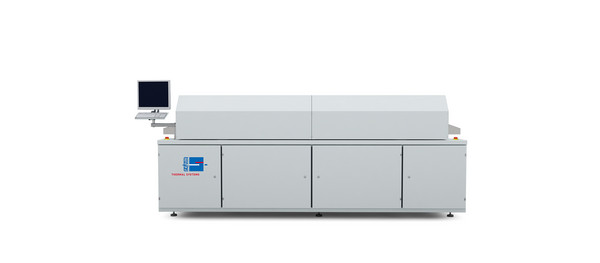 Unique technology benefits


Stable process, 24/7, 365 days, Proven to the best in class.
Optimized heat transfer and thermal stability, lowest real world cross profile performance, proven
Lowest cost of overall ownership, MTBF, low power usage are all best in class.
High quality 3 Phase blowers used.
Blower Speed Control top / bottom and cooling standard.
Full zone duty cycle control for power management.
New higher end Integrated residue management on N2 Enabled Systems
Rehm has transferred technology used in their proven flux management system from their higher end VXS and VXP systems and now offering this in the VXC model range.
New integration of same proven high end conveyor mechanics as used in VXP series is now standard on VXC Reflow systems
While other reflow brands have costed down their systems with lower performance and lower reliability side effects as a result. Rehm VXC series is a breath of fresh air at a price-performance-quality ratio that is hard to beat.
ONBoard Solutions is proud to introduce the latest Version of Valor MSS Factory Solutions, from Mentor Graphics-Siemens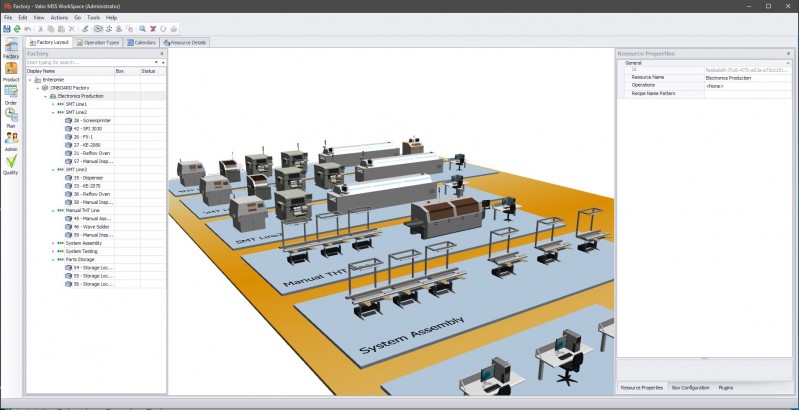 The latest version of Valor MSS Factory Solutions has added more scope and functionality to an already industry leading Electronics Manufacturing Factory Wide Control MES solution. Valor MSS Factory Solutions are Machine Vendor Neutral and work across a wide range of machines and equipment used in todays factories, from older systems to current models.
If your company wants to embrace Industry 4.0 principles, Valor MSS Factory Solutions can provide this today, with leading customers globally using this system to manage their operations from small midsize to large multi-site concerns.
Materials Verification
LED Binning – Part Variant Management
Materials Management
Materials Traceability
Quality Management
Production Planning
Enforced Routing
Business Intelligence
ERP Data exchange
Valor MSS Factory Solutions can support your factory as it is today without expensive capital equipment upgrades and machine vendor solutions that lock you into an ecosystem that often cannot deliver the end business outcomes Valor MSS Factory Solutions can.
ONBoard Solutions is proud to introduce the latest Version of Valor MSS Process Preparation Software, from
Mentor Graphics-Siemens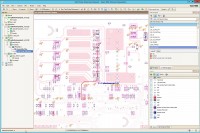 The latest version of Valor MSS Process Preparation has added more scope and functionality to an already industry leading Electronics Manufacturing NPI-Production Engineering System.
New option in the latest release as a powerful Panelisation Manager that offers users the ability to create reusable templates for panel generation and takes out the labour of hand drawing panel layout mark ups used to guide PCB suppliers.
The powerful Stencil Engineering Tool has been further enhanced and now has a reporting function, volume per aperture calculation and in improved shape manager functionality.
The DFT Engineering Tool core engine has been improved and offers users ability to create testability coverage access reports, quickly based on constraint templates, with capability to generate programs for ICT, Flying Probe and Functional Test usage.
DFA Analysis Tool is key feature of the system and offers users an automated way to augment their DFM Engineering efforts or services to their clients
Industry 4.0 and smart factories are a global topic, with Valor MSS Process Preparation, getting it right first time in virtual space is a crucial place to start.
OUTERSPACE DESIGN Stand C7

Fusion Guitar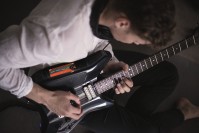 The Fusion Guitar is a self-contained electric guitar with iPhone© integration, developed by Melbourne-based Outerspace Design.
The Fusion Guitar combines a rechargeable battery, amplifier, monitor & audience speakers with an interchangeable iPhone dock in a portable guitar body. iPhone integration and real time signal processing gives guitar players access to a wide array of powerful guitar apps, amp simulations, looping and recording; it's like having a recording studio wherever you go. For beginners, YouTube demonstration videos, tutorials and interactive learning apps are at their fingertips.
A prototype was previously unveiled at Electronex, following a successful crowd funding campaign that raised over $500K USD in pre-orders. The Fusion Guitar was honoured with a 2017 Good Design Award in the Consumer Electronics category. The Fusion Guitar is now in production and available for online purchase.
CleverPet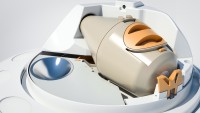 CleverPet provides the mental stimulation dogs crave, even when owners are away.
CleverPet is an adaptive, connected dog game console that challenges dogs to puzzles with lights, sounds and touch pads. It automatically rewards pets with food treats for successful completion of a task.
Developed to solve the boredom and frustration of dogs while their owners are away on long working hours, the interactive feeder uses sounds and illuminated touch pads to present mental puzzles. Studies have shown that dogs who have to work for their food, over the course of a day are happier and more engaged than those who receive it in one daily portion.
Smart, upgradeable software monitors your dog's progress, and can increase the level of complexity of the visual puzzles as your dog progresses. CleverPet's robust mechatronics are compatible with a wide variety of dry dog food shapes and sizes.
CleverPet was designed to feel at home in various environments. The dog-proof housing is durable, easy to maintain, and doesn't distract from the game interface.
CleverPet was developed in partnership with Outerspace Design, and is now available for online purchase.
Robo C2 and R2 3D Printers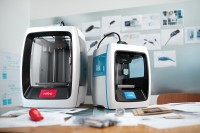 Robo 3D's next-generation 3D printers were developed in conjunction with Outerspace Design's San Diego branch as class-leading printers that are affordable, fun and easy to use.
The attractive product format uses a monocoque construction to keep the size and weight down so you can move the printer between home, school and office, while still providing a large print volume. Designed for a plug-and-print user experience, it only takes a few minutes to set up out of the box. The full colour display screen and Wi-Fi enabled iPhone app make it simple to monitor and operate the printer, while a wide variety of compatible filament materials provides a greater level of design freedom.
Both printers offer high speed, high resolution 3D printing from a self-levelling platform for trouble-free results, and the R2 takes it to the next level with built in on-board camera and optional extra head module for dual extrusion.
Robo C2 and Robo R2 received a 2017 Good Design Award in the Consumer Electronics category, and are available for online purchase.
THE BRIGHT GROUP (TBG) Stand A16
The Bright Group (TBG), with head-quarters in Sydney, Australia, is a dynamic multi-national group servicing the needs of the global Original Equipment Manufacturers (OEMs) with design, manufacturing, assembly and component distribution.
TBG's various divisions offer clients all they could need in the provision of value-add services, with a strong emphasis on developing beneficial partnerships rather than a mere client/supplier relationships. TBG's direct presence in 3 countries, Sydney (Australia), Wuxi (China) and Las Vegas (USA), allows for the ability to create synergies by being taking advantage of the gains from operating in the 3 countries. Competitive pricing to responsive localised services add to the value-add TBG provides to their clientele.
With over 20 years' experience in the service of OEMS. We are ideally placed to serve the OEM industry's needs from early engineering involvement to finished design for manufacture.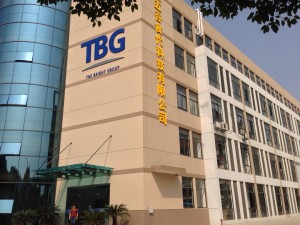 DELTA GAMMA RF Expert Stand A4

Hart-to-HurtTM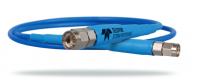 DuraTestTM is the cable for your daily measurement application. It is designed to withstand the movement without degradation of its performance. Ideal for error free test and end control of high throughput production. When failure is not and option and cost is a consideration.
DuraTestTM is available with N and SMA connector, has an insert loss of 0.56dB/m @ 2GHz, 2.56dB/m @ 26.5GHz and phase stability vs. flexure of ± 7.4º @ 26.5GHz.
Phase Stable Cable Assemblies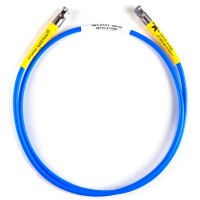 For measurement with an network analyser a phase stable is necessary. Otherwise the calibration will not be useful after moving the cable of the temperature has change. Similar problem will occure with phase array antennas.
Phase Master® from Teledyne Storm Microwave is optimised for a low phase shift vs. temperature of ± 300ppm compared with and copper cable of ± 1000ppm and has ±3.5º phase shift vs. flexure. The temperature range is -55ºC to 125ºC and much higher than cable with Polyethylene. It makes the Phase Master® the ideal choice for phase-sensitive application.
The Phase Master® is available up to 18GHz, 26.5GHz and 40GHz and with common right angle and strait connects.
When Low Loss is Important
For current EMC test high power at high frequency is needed to archive the field strength at the DUT. Because the cable between amplifier and antenna can have some length every dB counts.
dB MiserTM is designed for low loss and high power handling. Compare with Polyethylene cable PTFE-cable can handle higher power. The dB MiserTM 300 can handle up to 1000W @ 1GHz with a N-connector and up to 1600W @ 1 GHz with a 7/16-connector. The insert loss is only 0.16dB/m. At 6GHz it is still up to 650W with an insert loss of 0.34dB/m.
For Narrow Assembly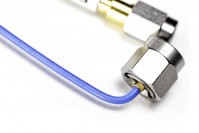 Sometime a right angle connector is too large or has not the required performance. To bend the coax-cable is normally not an option.
StormFlexTM will be a solution. It has an ultra-high strength, multilayer outer braid which protect the inner core. If you bend direct behind the connector you will not see any change in the return loss or an increase in the insert loss.
Standard StormFlexTM is available up to 50GHz and depend on the frequency with 2.4mm, SMA, GPO, GGPO and N connector. The temperature range is -55ºC to 125ºC.
110GHz Cable Assemblies
With increasing the frequency smaller connectors and cable a re necessary to guide through the signal mode free. el-spec offers semi-rigid cable assembly with low density PTFE and 1.0mm connects made in Germany. A 20cm assembly has an insert loss of 2.6dB @ 110GHz and a typ. VSWR of 1.25.
Flexible cable with PTFE has only a small change of the phase and insert loss with bending.
Multidisciplinary Analysis and Optimisation Software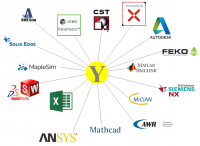 Not all software have an optimiser or the available optimiser can't handle the optimisation problem. OptiY® has a direct interface many CAD, mathematics and simulation software. It offers a multidisciplinary design environment for single and multi-objective optimisation, robust design optimisation, probability simulation, reliability analysis, sensitivity study and data-minig. It also can create a meat-model of the problem from measurement or simulation results for further optimisation. The mathematical model saves simulation time compare with FEM simulation and helps to reach the goal in a much shorter time.
OptiY® has a direct interface to AMESim®, ANSYS®, AWR Design Environment®, Autodesk Inventor®, Atodesk Simulation CFD®, CATIA®, CST Studio Suite®, FEKO®, mWave Wizard®, Siemens NX®, SolideWorks®, Soldie Edge®, SimulationX®, JMAG Express® , PTC Creo Parametric®, MATLAB/Simulink®, Mathcad®, Infolytic MagNet® and much more. It also offers an user-node for external scripting and .NET interface to connect your software with OptiY®.
VICOM AUSTRALIA and NEW ZEALAND Stand B26

Vicom is a leading provider of test, measurement, monitoring and communications infrastructure solutions and expertise aimed at improving our customers' effectiveness in Australia and New Zealand. We are a growing organisation recognised as a key contributor to each of the market segments we operate in.
Over the years since its inception in 1975, we at Vicom have forged strong long-term relationships with our principal suppliers who, without question, rank amongst the world's finest. All are recognised as leaders in their respective fields. An enviable product portfolio, strong service support facilities and extensive expertise in telecommunications, RF and general electronics test technologies, enables Vicom to provide world-class test and measurement solutions and customer support.
Test and Measurement Specialities:
Oscilloscopes
RF Land Mobile Radio
General RF
General Purpose electrical / electronics
Power Supplies / Electronic Loads
Positioning, Navigation & Timing
Fibre Optics
Telecoms
Audio
Avionics
Advanced Photonics Solutions
Broadcast
Communications
Data, transmission
Service assurance systems
NATA accredited calibration

Mixed Signal Oscilloscope- 5-Series MSO Mixed Signal Oscilloscope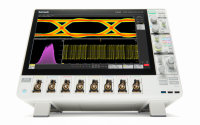 Tektronix has again broken through the innovation barrier with the introduction of the new 5 Series MSO mixed signal oscilloscope. To better meet modern electronics design challenges, the 5 Series MSO redefines the midrange oscilloscope with a host of innovations including the industry's first FlexChannel™ technology that allows 4, 6 or 8 analog channels and up to 64 digital channels, integrated protocol analysis and signal generator, a new 12-bit signal acquisition system, a massive high-definition capacitive touch display, and a highly intuitive Direct Access user interface – delivering unprecedented flexibility and unmatched visibility into complex embedded systems.
As embedded systems used in everything from smart watches to hybrid vehicles become more sophisticated, engineers developing these systems require more from their go-to test and measurement solution – the oscilloscope. To effectively and efficiently characterize and debug these more complex systems, designers need to look at a much larger number and wider variety of signals than in the past. At the same time, usability and fast time-to-insight are critical to staying on time and budget. As a clean-slate design, the 5 Series MSO is the world's first oscilloscope with the versatility and deep signal insight needed to meet these challenges.
Vector Network Analyser (VNA)- TTR500 Series Vector Network Analyser (VNA)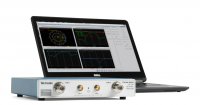 Like Tektronix' highly successful USB-based spectrum analysers, the new TTR500 Series delivers an unmatched combination of low price and performance – 40 percent lower cost than alternatives capable of matching its 122 dB dynamic range and 6 GHz frequency range. It also includes advanced features including new VectorVu-PC analysis software and the only built-in bias tee for testing active devices in this category.
Among the markets with a critical need for an affordable VNA are Internet of Things (IoT) design and education. VNAs help IoT designers match Bluetooth, WLAN, RFID and other radios to antennas. In many cases, designers must rent or borrow VNAs, adding time and expense to projects. In education, the high cost of VNAs means students get little to no hands-on time with an important instrument. The TTR500 Series dramatically lowers the barrier to entry and features an easy-to-use user interface for common tasks. The TTR500's small, compact form factor eliminates the need to roll around a shared VNA.
Arbitrary Waveform Generator (AWG) - AWG5200 Series Arbitrary Waveform Generator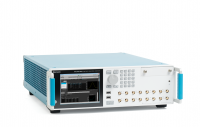 The new Tektronix 5200 Series arbitrary waveform generator (AWG) offers high signal fidelity and scalability at an affordable price point to meet demanding signal generation needs in advanced research, electronic test, and radar and electronic warfare (EW) system design and test.
It offers an impressive set of capabilities not previously available in the market all in one instrument, including a 10 GS/s sample rate, 16-bit resolution and up to 8 channels per unit along with support for multiple unit synchronization. It includes a flexible waveform generation plug-in suite with comprehensive coverage for a wide variety of standards and digital modulation techniques. It also lowers the cost of ownership for complex multi-signal environments.
At the heart of the AWG5200 series instruments are new high performance digital-analogue converters (DACs) that offer a mix of speed and resolution within a fully-integrated product package. With its powerful DAC cores, the AWG can directly generate highly detailed RF/EW signals or the complex pulse trains used in advanced research. The 16-bit vertical resolution is the best fully-integrated AWG available in the industry compared to alternatives at 14-bits resolution.
WAGO Stand A20
New Dimensions in Automation – Intrinsically Safe from −40 to + 70°C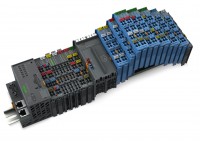 WAGO's 750 XTR Series of products offers a solution that broadens the range of use for machines and systems with regard to environmental conditions and external interference factors, while providing the highest degree of flexibility. At temperatures from −40°C up to 70°C, vibrations up to 5g, operating altitudes of up to 5,000 m above sea level or enhanced immunity to electromagnetic interference and other interference as per EN60870-2-1:
All modules have ATEX/IECEx approval for use in zone 2/22. Besides the standard signals from the sensors and actuators from zone 2/22, intrinsically safe sensors and actuators from zones 0/20 and 1/21 can also be integrated via the I/O modules in the blue enclosure.
Intrinsically Safe in Extreme Conditions
The permissible ambient temperature range of −40°C to +70°C enables the modules to be used an any climatic zone without having to provide additional protection with air conditioning or heating systems. The module's immunity to interference and electromagnetic interference even permit it to be used in medium-voltage systems, while its extreme vibration and shock resistance allow it to be used in rail vehicles and to be installed in marine diesel engines. All of the circuit boards are coated with protective varnish, to safeguard the power electronics and conducting tracks against short-term condensation.
For more information, please contact our friendly staff on: This email address is being protected from spambots. You need JavaScript enabled to view it.
EPSITRON® ECO Power: The Economical Power Supplies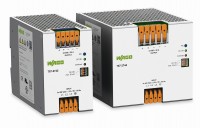 High performance combines with high efficiency in WAGO's new power supplies
WAGO's new EPSITRON® ECO Power Supplies will offer a series of economical DIN-rail-mount power supplies for standard 24 VDC applications. The integration of push-in CAGE CLAMP® and lever-actuated termination technology, makes the new ECO models not only fast for installation but also maintenance-free and tool-free. The connection terminals allows the termination larger conductor cross-sections – even those with ferrules. In addition, these ECO Power supplies have a 3-phase input ranging from 400 to 480 VAC and supply 24 VDC at the output at 20 A (787-2742) and 40 A (787-2744) – with an adjustable output voltage up to 28 VDC. A DC OK contact is also available for output monitoring.
Wurth Elektronic Stand B28
For gaming or driving enthusiasts test your skill on the Racing Car Simulator on the Wurth Elektronic stand at the show.